Tito
Dink Flamingo
2013-09-18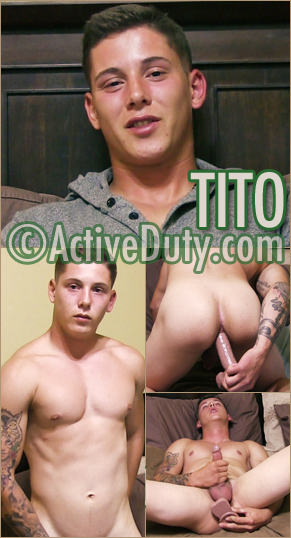 Hey Troops,
I'm back behind the camera tonight, bringing you a new find in 20-year old Tito. The smooth, olive-skinned guy has a bangin' body, stands 5'9", weighs 150 lbs. and is ready to go!
You can tell by the looks of his body that he enjoys running and going to the gym, and generally staying physically fit. I ask him about his hobbies and he says that all of his time is taken up by the gym "and working." lol. He's originally from Los Angeles, which might be a first for us. (I can't think of the last AD guy to hail from L.A. Lemme scroll through my mental rolodex and get back to you on that one . . . )
He says he's "a little bi curious" and getting into the porn business "seems like fun." He says his bi-curious and has had a little bit of experience with guys, so we'll see how that develops down the road.
I get him to take his shirt off, revealing a smooth chest and nice pecs. He says he works out five days a week, for about an hour to an hour-and-a-half each day. You can tell, too -- his dedication is clearly paying off.
We soon get him naked, revealing his smooth, fit body. Before you know it, out comes a monster dildo and then we're really cooking! Tito takes the dido for a serious ride, pistoning it in-and-out of his hole as he climbs all around the bed. You've got to see how the scene ends -- suffice it to say, we both had smiles on our faces.
See you back here on Sunday!
Dink