Tony - Solo
Dink Flamingo
2014-01-08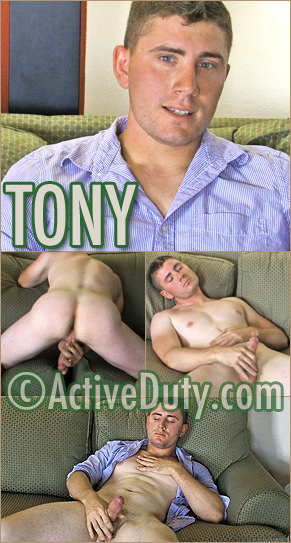 Hey Troops,
We've got another new recruit for you tonight in the War Chest Update!
Meet Tony, a 23-year old fella who hails from Austin, Texas. He stands 6' tall and weighs around 180 lbs. He enjoys skateboarding and most sports.
Mike asks him if he's nervous about doing the scene today, and Tony smiles and says "Naw, definitely not."
"Love the attitude," Mike says, and leaves Tony to get comfortable on his own.
Tony seductively gropes and feels himself up through his button-down shirt and blue jeans, eventually revealing a nice dick. He gyrates and bucks around on the sofa, putting on a nice show for us, clearly getting into the proceedings.
He's a sexy little devil, and I think he might go far with us if we can get him looped in for some man-on-man action. (Ya hear me, Mike? lol.)
After all is said and done, Tony says that he "thinks" he'll come back for more, so we'll see!
Until then, we'll definitely see you back here on Sunday,
Dink