Travis II - Solo
Dink Flamingo
2014-01-15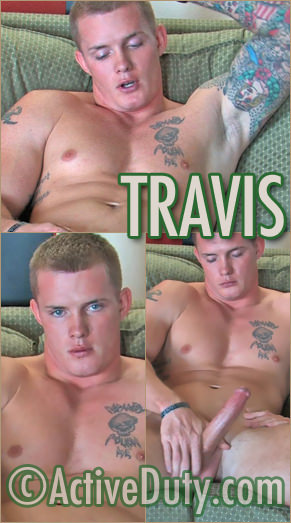 Hey Troops,
Say hello to new recruit Travis tonight in the War Chest Update!
The big hunk of a guy stands 6'1" tall and weighs in at a sizable 190 lbs.
You can tell he works out quite a bit, from the size of his broad chest and big arms. Not to mention his meaty thighs that have just the right amount of blond hair on 'em.
He's got some ink on his body too -- with most of his left arm covered in tattoos.
Travis says he enjoys playing sports, going to the gym (obviously), wakeboarding and working on cars -- "stuff like that."
While he says he's a "little bit nervous" to our guest director, Mike, he still puts on a great show for us.
Will we see Travis again in the future? Who knows. But until then, enjoy his debut in the War Chest!
See you on Sunday!
Dink