Trey
Dink Flamingo
2014-11-19
0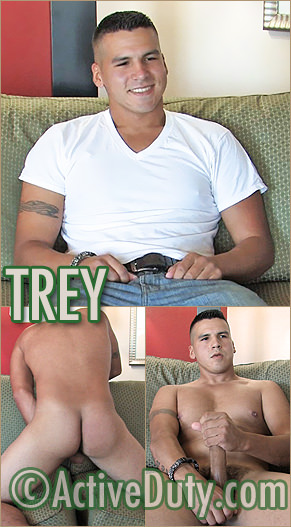 Hey Troops,

"You nervous?"
guest director Mike asks our new recruit Trey as our latest scene opens.
"Little bit..."
Trey
says.
"You look like you're ready to jump out of your skin," Mike jokingly replies.
"Uhh..." Trey nods, smiling, "Little bit. I'll be alright."

Trey is a 22-year old fella
from Cheyenne, Wyoming -- and if I'm not mistaken, there might be some Native American in him. He stands at 5'11" tall and weighs in at a solid 187 pounds. Mike notes that he looks like he's in good shape, and Trey says that he "tries to stay that way."
As usual, Mike says that he's going to let Trey do his thing, letting him "knock it out," with little interruption. By the end of the scene, Mike asks Trey "was it as bad as you thought it'd be?"

"Nah, not nearly," he says with a grin.
Mike asks him if he'll come back for another round, and all signs point to "yes," so we just might see Trey again around these parts!

Enjoy Trey in the War Chest!
See you back here on Sunday.

Dink