Vic & Wayne
Dink Flamingo
2013-10-13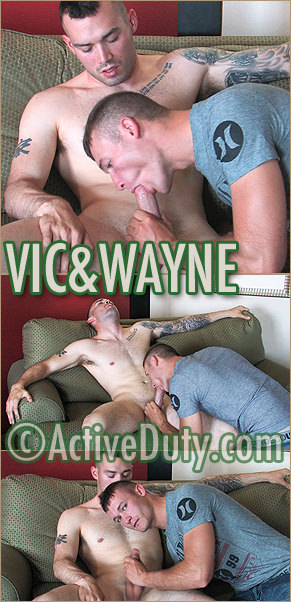 Hey Troops,
Before we jump into the update, I want to remind you about our special 15th anniversary ...you must watch the little flashback/highlights video that King Cole made for us.
Ok, now, on to the update!
"You know what you're here to do so. I'm gonna leave you alone."
And with those familiar magic words, we're off and running in our new scene from guest director Mike.
Vic is the studly guy who is the subject of our update tonight. I just love looking at his delicious, ripped abs and bulging muscles. He's got a nice buzzed hair cut and some cool tats.
He's also got a "I'm going to whip your ass if you look at me wrong" vibe sometimes, which makes him all the more tantalizing. lol.
After Vic has stripped off his clothes and gone to work on his dick, Mike suggests that he get some friendly help from Wayne. A few seconds go by, and Wayne is suddenly plopped down on the couch next to Vic and is sucking away. This is a no-frills affair folks, and Wayne is just here to lend a helping hand (and mouth). (I have the feeling we're going to see more from Vic and Wayne together though -- mark my words!)
You'll have to see how things end for yourself, but, I can assure you -- Vic had himself a very nice time. lol.
See you back here on Wednesday for another War Chest Update!
Dink