War Chest: Alex James
Dink Flamingo
2018-10-03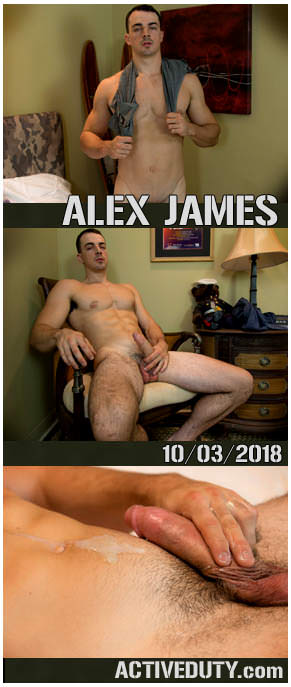 Hey Troops,
Our new recruit today is 24 years old standing at 6 feet 2 inches and weighing in at 200lbs of pure muscle. Alex has been in the Marines for 6 years and he is an avid Basketball fan and player. He keeps that body in mint condition from being in the Marines and playing Basketball whenever the chance arises.
Dirk can't believe his eyes as he introduces Alex to all of us.
Alex is a hunk of a man
with a chill vibe flowing through his veins and don't ever mistaken his kindness for weakness. Dirk tells him it's time for him to take his shirt off and watch some porn we have for him. Alex is ready for the chance to show off especially when he tells us that he usually jacks off 5 times a day.
You can hear Alex's breathing begin to pick up as he takes deeper and deeper breaths. He's been quiet most of the time stroking his cock but now that he is coming closer to
releasing those soldier balls
his moans have become louder and deeper.
Alex gives his finale strokes and our camera man has a
gorgeous side shot of this beautiful man
as he releases his built up balls and all his thick cum shoots out of his thick cock spurt after spurt until his
rookie balls are empty
. The relief on this young soldier's face is amazing. Dirk has Alex rise up on the bed onto his knees giving us a great view of his ripped abs and his fresh sticky load. With the balls empty and his duty done Dirk tells him to hit the showers.