War Chest: Alex
Dink Flamingo
2015-09-02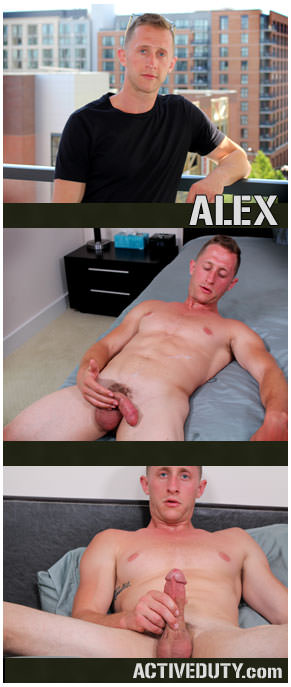 Hey Troops,
What a sweet blessing to have this fine soldier on our squad. Alex is a down-to-earth guy who, I think, is eager to find a place with us here at Active Duty, and I suspect he'll fit right in. Claude brings him in this time for a nice, extended solo jerk session and the two chit chat for a quick spell before Claude lets Alex get down to the good stuff.
At 5'9" and 165 pounds, it's no wonder Alex likes to hit the beach when he's on leave. I'll bet he has the girls and boys drooling all over him with that perfect, rockin' bod. Seriously, wait 'til you get a good look at this
sexy recruit's upper body
. He is insanely chiseled! I noticed a very hot tattoo he has, just under his right pec muscle. Lately I've been interested in learning a little more about the ink these boys have. Perhaps something to have Claude throw into the mix when he chats up our new boys. Other than the beach, Alex is a soccer player. I can imagine that lean form moving across the game field, like a wildcat in the Serengeti. Yummy!
Alex
fattens up his nice cock
before pulling out the top of his gray sweatpants and black underwear. He does some nice stroking with his balls peeking out too. Eventually, he ditches the bottoms altogether and sits down on the end of the bed. Alex uses plenty of lube to
tug and twist his large meat
. And boy does he work it! I enjoyed seeing his entire body involved as part of the thing. There are moments where I notice Alex's legs shifting in involuntary reaction to the pleasure...very sexy indeed.
From there, we have Alex on his belly, thrusting his
firm dick into the bed for some excellent pillow fucking
. As a soccer player, Alex was able to get right into a nice, sensuous rhythm. He knows his body well and really worked the important muscles as he grinded the pillow. His lats are so very lickable! I had to watch the side view here a few times to really take all the sexiness. There was a pretty great contrast in color from his ass to his back. I find this so very tantalizing. It's one of the things I look forward to all year during the cold months! Another thing I love about Alex, and this is when I noticed it, is his balls. They hang nicely, a little lower than what you might expect, but boy would they look nice in the mouth of another hungry recruit!
Marching forward, we get Alex back to
jerking his nice, oiled-up cock
. He takes a moment to spit in his palm at one point. I love this so much! A man after my own heart, he knows nature's lube is always best! This is one of the ways I know Alex will shine once we get him paired up with another fine soldier. He's ready to get down and dirty in the trenches and I can't wait to experience it.