War Chest: Allan
Dink Flamingo
2016-01-20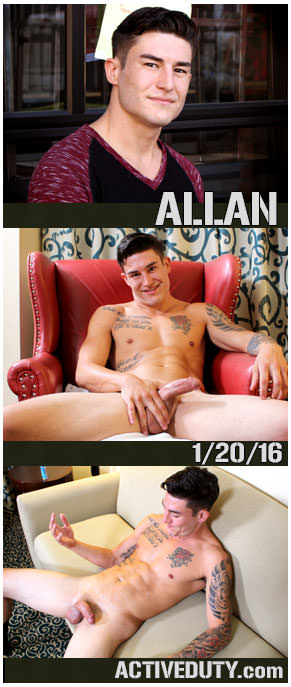 Hey Troops,
We have one of the
cockiest recruits
we have ever filmed for you today. Allan is a young 23 year old standing 6 feet tall and 170 pounds of pure fresh meat.
Allan has a strong personality
that you can feel just by watching him stroke his beautiful cock. He constantly looks into the camera and speaks directly to it. Hope Claude didn't think he was talking to him but as usual Claude was diving in for the best close ups and variety of angles to show off this new young stud.
Allan is shaved from head to toe smooth as can be with a
great set of balls
that any soldier would love to feel on their chin. He slowly strokes his dick and spits on it for lube which he does quite a few times throughout the scene.
His demanding eyes
tell you that he is ready for the battlefield and can handle anything we throw at him. We haven't even invited him back yet but he is so cocky that we don't even need to ask because we all know our members will love him.
You can hear how excited Claude is but he doesn't want to take the lime light away from Allan's dirty talk. At one point we catch
Allan fucking the shit out of his pillow
. All you can see is that firm muscular ass pumping and grinding the soft pillow. It got me thinking how great it would be see him fuck one of our Veterans and I'm sure we will definitely see that happening very soon.
Allan is a natural knowing where the camera is at all times checking in with us to make sure you like what he's doing. The soldiers will be lining up to get a piece of this new recruit.
Finally Allan has his
dick so lubed up with spit and his grip so tight
while stroking it fast that he lets the fireworks fly as that nut comes blasting out all over himself. He's coming back don't worry and it could well be one of the best encounters we will have the pleasure of capturing.