War Chest: Allen Lucas
Dink Flamingo
2015-10-28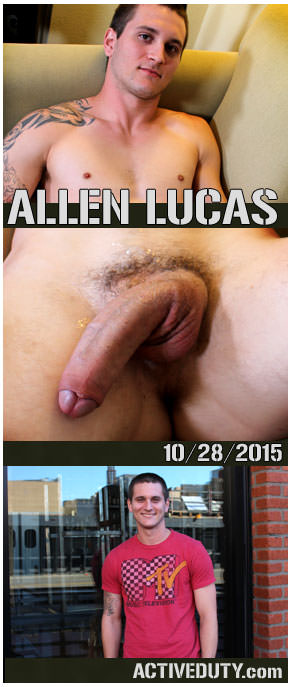 Hey Troops,
We have, and I say with great confidence, a
spectacular specimen
joining the squadron this time. He's Allen Lucas and he's quite a hunk. At 6'2" and 180 pounds, Allen is exquisitely built. His
nice, thick arms
are a wonderful compliment to his handsome smile and easy-going personality.
Claude's chat with Allen really put me in the mood to see this recruit jerk off. He's so dang charming right from the get go. With that fun t-shirt and his
happy-go-lucky attitude
, I know he'll be in high demand among the platoon members. And I bet he ends up enjoying himself, too!
Allen tells Claude that along with sports and physical activities, he enjoys art. That makes me imagine he has a sensitive side, probably not very deep under the surface. And everyone knows
artists are the most passionate
.
He starts the jerk session off slowly, taking some time before pulling off his shorts and whipping out his cock. When he does, he stands up and we see a
beautiful, thick dick, with nice, smooth-looking balls
...the kind that feel like satin on your lips. Claude doesn't hesitate to move in close once Allen sits down in a red leather chair. That's when we really get a sense of how
nicely sculpted Allen body AND cock are
. This is an excellent shot that includes that handsome, oft-grinning face.
When Allen gets on the couch to continue
tugging his hard dick
, he takes a leaned-back approach. He really did a great job relaxing, especially considering this is his first time, and his big, swollen member is proof!
He gets on his feet and Claude captures a very fun angle from underneath. Allen peeks around his stroking to look at us on the floor.
Allen moves back to the couch and winds up
nearly blowing his load
earlier than he would've liked. A good amount of precum sneaks out onto his stomach, so much, in fact, it looks like half a normal load. But like a true soldier, Allen holds back just enough to keep going. It's a very hot moment.
This is definitely a recruit I know everyone's gonna be hollerin' to see again, and I know he'll be back. I highly recommend staying tuned after Allen blows his hot load. Claude follows him into the shower and they chat a little more. Let's keep our eyes and ears keen out for this impressive, promising fresh recruit. He'll be a
fun and welcome addition
, that's for sure!