War Chest: Anthony Banks
Dink Flamingo
2016-09-07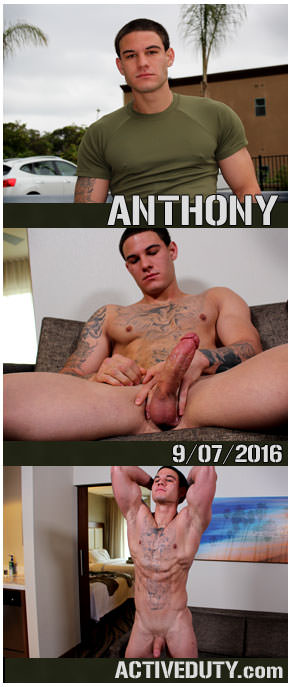 Hey Troops,
Here's a
brand new recruit
that you're gonna absolutely fall in love with. He's
Anthony Banks
and he's just the type of guy we've been hungry for! At 6'3", 205 pounds, he's a big, nicely chiseled breath of fresh air.
He chats a bit with Claude before getting started, and we see that he seems like a nice, straightforward type of guy, with a
good head
on his shoulders. I like his attitude very much. I think Anthony will get along swimmingly with the rest of the squad. He may have some leadership qualities too that would add something even more valuable to the whole AD troop.
When Claude gives him the go-ahead, Anthony strips off his green, military colored shirt and we get our first look at his
amazing abs
and incredible chest. Anthony is heavily
tattooed
and in just the right spots. Once his shirt comes off, he gets into
fattening up his cock
, still hidden underneath his board shorts.
Once the shorts come off, we find out that Anthony is indeed VERY well endowed! He has a
large dick
to which he applies plenty of oil, right from the start. Claude gets in nice and tight to show us the
wonderful girth
and strength of that
stiff meat
.
Then Anthony stands up and we have a gander at his thick rump roast! My goodness, this boy has an irresistible butt and I can't wait to see it put to some good use here! I hope we see Anthony back and can convince him to let another recruit
fuck his ass
. That might be a lot to wish for now, but I think we'll have no trouble at least convincing him to use some of that power I can see to bang out a fellow recruit. Claude does a good job letting us take a look at Anthony's entire body, even showing us his wonderful legs and
feet
.
We definitely have another outstanding recruit here and I don't think I need to tell anyone that. This was just a solid first-time showing from a guy that should easily work into a perfect, welcoming spot on the squad. Another fine prospect and they keep rollin' in!