War Chest: Anthony Rogers
Dink Flamingo
2018-07-04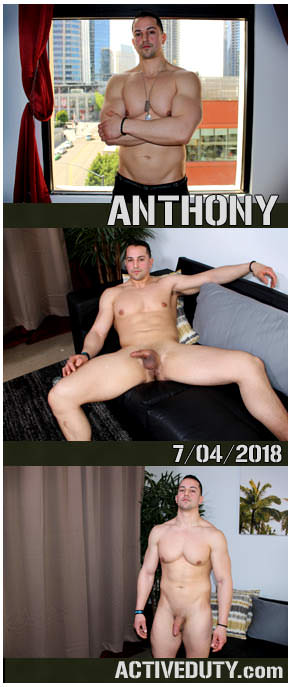 Hey Troops,
Anthony is 24 standing at 6 feet 2 inches and weighing in at 210lbs of lean sexy muscle. Anthony is a personal trainer and strives to make his life and other people's lives better. He's strict when it comes to his eating habits and when he is in the gym on his off days he's completely lost in the moment while he works on his amazing body.
Anthony slowly undresses for us showing revealing his
huge well-built chest
and his beautiful pecks that look ripe for kissing and sucking. He is completely
smooth all over his sexy body
and his thighs are just as huge and fit as his chest. Anthony spends countless hours in the gym perfecting his body.
He gets his
cock hard by rubbing
and stroking it and once it's fully awake he begins to tug on it fast making his
balls smack around
. Anthony has a very nice thick hard cock with a pair of smooth tasty balls.
Anthony sits down on our couch and man spreads like you've never seen before. He
strokes his dick
and his balls bounce up and down constantly as you can see all the beauty between his legs.
This is one big boy and we would love to see him come back and I bet he would make a great bottom for some of our elites. Anthony I am sure can take a big thick cock in that cute little bubble butt of his. Keep your fingers crossed and let's hope we see him back in the war room breaking barriers.
Anthony stands tall as he strokes his meaty cock in the middle of the room and with no warning he shoots a huge stream of cum all over our rug with shot after shot of warm cum splattering on the rug.