War Chest: Big Saint
Dink Flamingo
2018-05-23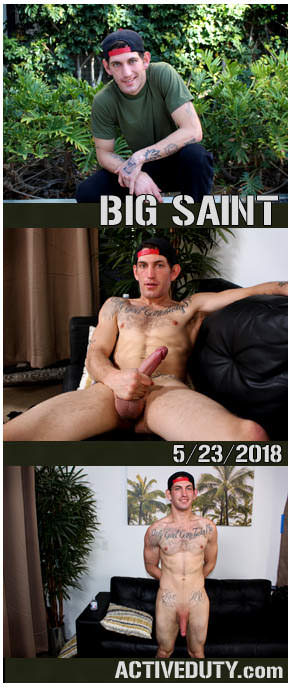 Hey Troops,
Today's newest recruit reigns from San Diego standing at 6 feet tall weighing in at 172lbs and only 22 years of age. Big Saint is a musician and is constantly in the lab making new beats and working hard and releasing an album in the near future.
They don't call him Big Saint for any reason. Once he drops his pants his
huge uncut cock
comes right out ready for some stroking. He's slender with some ink and a great attitude to go with it. He has to use
two hands to stroke his big dick
. Saint's always wanted to show off his big dick to the camera and now he finally has the chance.
His
big smooth balls
were ready to explode only minutes into the scene. He stroked his dick with a tight grip going so fast that he
blasted a nut
all over himself. He didn't think he would cum that quick and neither did we but lucky for all of us he built that rock hard cock right back up and gives us another amazing shot of jizz at the very end.
Big Saints tall slender look with his backwards hat and
thick uncut cock
is very pleasing to the eye. He slightly moans as he continues to build up his
second blast of nut
. He kicks back on our couch legs spread showing us his sexy hairy hole while his balls dangle up and down. His
cock starts to throb
and the veins become more visible as his second load comes blasting out all over his chest and legs leaving a trail of jizz all over the place.