War Chest: Billie Starz
Dink Flamingo
2017-03-15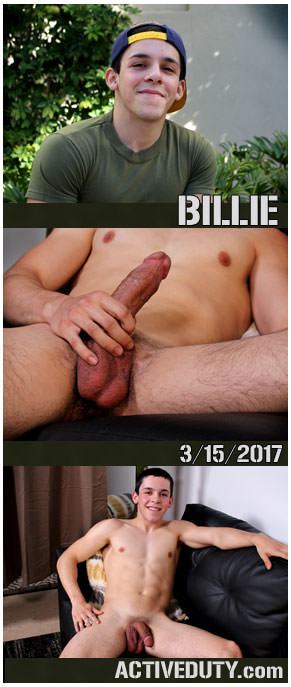 Hey Troops,
Boy, do I have a sexy piece of fresh talent for y'all this time! His name is
Billie Starz
and you ain't gonna believe this incredible
19-year-old hunk
!
Billie has the young face of a future star and I don't think we'll forget this monumental moment when we get to watch him first dip his
delectable toe
in the water! As he chats with Claude, we get a sense of his personable, outgoing personality. It's just what you would imagine. He seems friendly, laid-back, and ready to try just about any old thing!
I think, although he does seem cheerful and at ease, Billie was a little nervous on the inside. He sure takes his time with his hand down his pants,
fattening up his cock
for its video debut to the world. I'm sure he wanted it to be nice and fat the first time he shows it off the whole squad.
And goodness me, if Billie isn't
hung like a prize stallion
, I don't know what!! His entire body, from head to foot is just delicious. I can tell Billie spends plenty of time in the gym, toning up and workin' on that
amazing bod
. For his age, his muscle definition is truly impressive.
Billie strokes his hard dick
on the couch and Claude gets low and tight. Just look at that gorgeous erection in Billie's hands. I'm already anxious to see this boy in action! I know he'll be a huge hit with the fellas.
Billie has lots of muscle, but also that good meat on his ass. After jerking on his feet for a little while, he goes back to the couch and sprawls out a bit, showing that ass off a little more.
Before he finishes, Billie seems to become more engrossed in his
self-pleasure
allowing the distractions and nerves to melt away some. And WOW, what an
unbelievable cum blast
! I can tell Billie was saving himself for quite a while before this experience. It all goes to show that this recruit is dedicated from the beginning and really wants to put his best self out there for us. This is one rookie soldier to whom we'll be eagerly anticipating an epic return.