War Chest: Blaine Jameson
Dink Flamingo
2018-06-20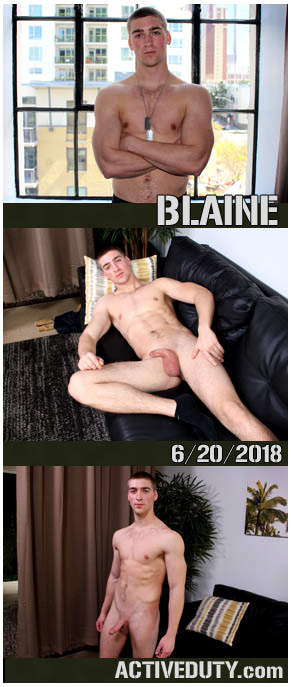 Hey Troops,
Today our newest recruit is only 22 years of age weighing in at 185lbs and standing a very tall at 6 foot 1. Blaine is a gym rat and is focused on making his body the best it can be no matter what the cost.
Blaine is a very
sexy tall well-built young man
with ripped abs and big firm arms. He lies out on the couch with his long strong legs and begins to slowly take his clothes off showing us his body.
Once he drops his clothes he starts working on his cock which gets hard right away and he continues to stroke it at a slow but firm pace. He was so excited to bust a nut but we had to tell him to hold it back so we could
bask in his sexiness
and make sure he gives us a great sexy show.
Blaine makes his way back to our awesome couch and he begins to play with his throbbing cock even more stroking it fast and building up is nut that he has been holding since he stepped off the plane. Here at AD we like our soldiers to give us the
biggest load possible
and Blaine delivers.
Blaine bounces up from the couch and stands over our glass table as he gives his cock the final strokes and he unleashes a stream of thick cum droplets all over the glass table making for one beautiful mess.