War Chest: Bo Connor
Dink Flamingo
2017-10-11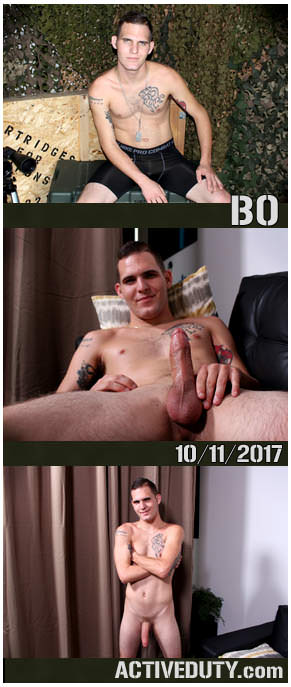 Hey Troops,
We got another strong young man ready to stroke his nut out for you. Bo is 22 standing 6 feet tall and only weighing 155lbs.
Bo wanted to have an adventure before he gets shipping out to some part of the world. He contact AD and we decided to give him a shot and see if he has what it takes to be an AD soldier. He has very nice
thick cock
with great length. He has a few tattoos but just the right amount so it's not over bearing and he has the perfect amount of hair.
Bo grips his cock
and soon enough you can see just how much girth he has on that hard dick. He strokes it slowly while pulling down on his
nuts
. He likes to look in at the camera as he plays with his cock.
Claude gets right in the middle of the action when Bo is sprawled out on the couch. Claude has the camera almost touching his balls as Bo slowly moves his hand up his
thick shaft
showing us every inch of his meat.
Bo could beat off for us all day long but the time has cum for him to let it all out and the way he does it is amazing. Bo begins to
fuck a towel on the carpet
. He grinds it hard for a few seconds and that's all it takes as he pops right up onto his knees and blasts his load all over the floor. If he does come back for another visit maybe we'll get to see him utilize that technique with some of our vets.