War Chest: Bo
Dink Flamingo
2015-05-13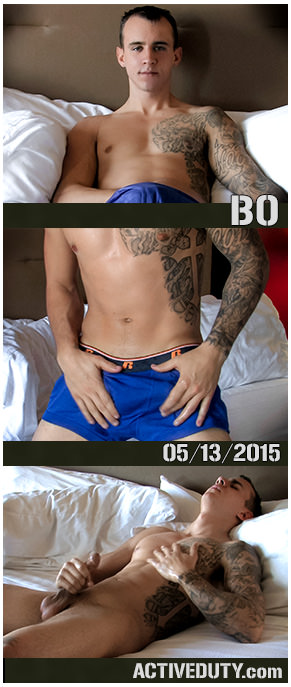 Hey Troops,
Mike just finished up his latest round of recruitment, so we're gonna be seeing few fresh, brand new faces makin' their way onto the
War Chest's front page
over the next few weeks! Whether it's for their commanding officer at the base, or for the thousands of viewers at home who are getting to see them for the first time today, these strapping young soldiers always give it their all to make a good first impression, so be sure to return the favor by giving them your undivided attention!
Our first new recruit is Bo
, and he's a shy young thang from Portland, Oregon. He's 5'7" and 145 lbs, and even though he looks
in the prime of his life
right now with a tightly packed torso and a smooth boyish face, he seems like an old soul. He tells Mike his hobbies are fishing and hunting, and he seems perfectly relaxed in his undies in front of a complete stranger who he just met yesterday!
Mike leaves Bo alone to get warmed up, and Bo takes his time getting out of his bright blue boxer-briefs. But when he does, that's when the real treat begins. Most guys' jack-off patterns are a pretty straightforward tug session, which is why it's always extra exciting to see something different. Well, first thing Bo does after stripping down is he rolls over onto his stomach and
starts humping the mattress
, giving us a glorious view of his shapely behind as he bucks back and forth. Even though he only stays like that for a few seconds before flipping back over to show off his front side, you can be sure that Mike makes him get back on his belly to give us another peep of his sexy ass before the end.
Bo's one of the fastest strokers I've ever seen
, and his hand is practically a blur as he cranks his shaft fast and furiously. His other hand grips the base of his ball-sack tight, and you can even see them swelling and turning redder as he works himself up to a satisfying nut. I swear, all the pressure he put on his balls must be like stepping on a garden hose, because when he finally lets it loose his cum shoots all the way to his face and neck,
dousing his entire chest with a huge puddle of jizz
. It's one of the biggest cumshots I've ever seen, and you can tell Mike's damn impressed as well.