War Chest: Brad Powers
Dink Flamingo
2016-11-16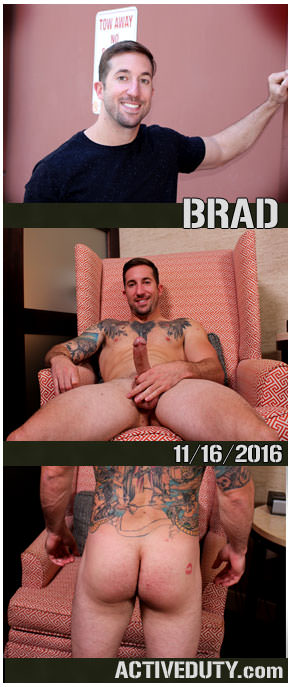 Hey Troops,
This is
Brad Powers
and he's a stone cold STUD! I think he'll make a quick home for himself among our growing roster, and make some great, lifelong friends during here journey here at AD.
Claude chats Brad up a little bit before he lets him show us what he's got. It's no surprise Brad is a gym rat. With a knockout physique like that, it's easy to see Brad spend plenty of time on those
hard muscles
. Boy, that body sure is gonna make a lot of OUR muscles hard, eh boys??
Once he's off and running, Brad strips down to a nice, tight pair of black
boxer briefs
. I like that choice for Brad, as they seem to fit his style and persona quite well. Before he unsheathes his python, Brad takes some time to
rub his snake
while it's still caged. I should probably mention here that not only is this Brad's
first time becoming nude
on video tape, looking forward to more adventures, Brad has
NEVER hooked up with another guy
before his adventures with us. I think it's safe to say we're in for a fun ride with THIS rookie!
When Brad does quit teasin' us and finally shows us that cock of his, WOW, what payoff! He is hung just like we like 'em. When he pulls out that
gorgeous cock
, he's already nice and hard. Brad leaves the undies on for a little bit while he pumps down his first strokes. Yummy, what a
tantalizing display
.
Admiring Brad's upper body while he
tugs his dong
, I really notice the power in that chest and those arms. And Brad's tattoos are totally cool! I just know he's gonna mesh so well with plenty of other boys on the squad, both personally and aesthetically.
While Brad enjoys his
fully erect dick
on the nice, cushioned jerk seat, Claude gets low and close to show us a tight view of that greasy cock getting rubbed and tugged. Brad seems to be a natural, giving us plenty of love with his
dreamy eyes
. We see him looking right at us around that pulsating meat slipping up and down in his
gruff, strong hands
.
Then we get Brad standing up for a change, with Clade moving underneath for a upward view. Here we see Brad's
tight balls
, thick cock, and handsome face, all wrapped up in a sweet package! Wouldn't it be nice to be there in the flesh, right there below, waiting for that
hot load
to spray?!
Claude moves over the top to show us what Brad sees. Take a look at that
shapely dick
! Brad is chiseled from stone and (hopefully) ready to bone. I just can't wait to see that hard cock slippin' into one of our other recruits.
Take some nice time out with our latest and greatest, Brad, and treat yourself to a real experience with some new meat. I know you'll be counting down until we're blessed with another appearance from this
absolute HUNK
!