War Chest: Brad
Dink Flamingo
2015-07-29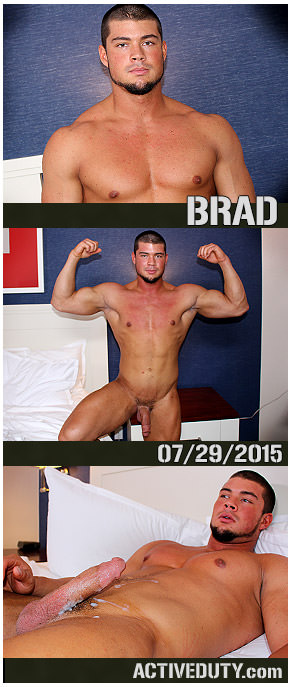 Hey Troops,
This is one of those boys that really scratches a deep down itch for me. At 5'10", 200 pounds, Brad is thick with muscle,
all over his luscious body
. He's a brand new recruit and is clearly nervous for his first time getting naked on camera. Good thing our man Claude is present on the front lines this time, ready to guide this strong young man through battle!
Like I was saying, when I get to see a guy like Brad come through and
fatten up his cock
for a nice solo, it satisfies a craving I have for soldiers with big muscles that make bulking up their top priority. It comes across so obviously that Brad is one of these, he even tells Claude right at the jump. He says he into working out all the time ("that's pretty much it"), and working on cars. Brad's my type of downhome, good-ol'-boy. And from my experience, it's exactly this type that seems reserved when they first get going, but take off like a Chevy with a Hemi once they get their legs. If you check out Brad after he shoots his load, you'll see exactly what I mean.
Claude sensed Brad's anxiety going into this solo, so he tried to chat him up a little more than he does a typical first time recruit. Once Claude leaves, Brad takes a little time to warm up. But boy! When he first pulls down the elastic of his underwear and
lets that thick, stiff meat pop out
, it's quite a moment! I love those first tugs new recruits take...they're the ones I never forget.
Brad does indeed loosen up about a quarter of the way in, and we see him start paying more attention to himself and his throbbing cock. I really enjoyed his hands. They're big, thick paws that he uses to handle his appropriately sized dick. My goodness, they did look sexy
holding and stroking that big hard on
. But Brad's whole body, once we get to have a good enough look at him from all sides, is just a flat-out masterpiece. He's sculpted exquisitely in all the right places, particularly that nice, plump ass.
This is one I highly recommend watching through the end. Y'all troops know how much I enjoy seeing real transformations in these young recruits and this is one of those stories, even just this one solo. Claude and I really enjoyed having Brad come through and are so very hopeful we'll have him back for more. So far, Claude's had a knack for getting these boys to really let their guards down and enjoy their bodies. This time, we saw some great progress over the course of a small allotment of time. I want to see how far a strong, promising prospect like Brad can go when he has even more room and opportunity to stretch his thick, muscular wings.