War Chest: Bradley Hayes
Dink Flamingo
2018-10-17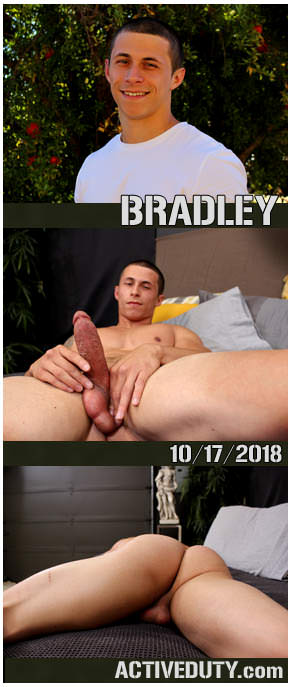 Hey Troops,
This week's new recruit is only 24 years of age standing at 5 feet 10 inches and weighing in at 170lbs. Bradley has been looking for a new adventure and he's wanted to expand his horizons. When he's not experimenting here with AD you can find Bradley at the gym keeping his body in tip top shape.
Once the introduction is finished Bradley begins to take his clothes off revealing his
thick cock
. He begins to rub his body and as he watches some porn his dick begins to grow and become even thicker. He jumps onto our bed and continues
to stroke his meaty cock
as his legs are spread.
Bradley was stroking so fast that Claude wasn't expecting him
to blow a hot load so quick
but luckily we got the shot. It would have been a short film but Bradley step it up and began to build his balls up again so we can get another great cum shot.
He gets back onto the bed after standing for so long stroking his thick dick. Once he's back on the bed
legs spread wide
and comfortable he lubes up some more and begins
to tug away on his balls pulling them down
as far as they can go. He jumps back up into a standing position and lets Claude get one amazing underneath shot and it shows just how smooth and
sexy Bradley's hole
really is.
Bradley has his balls full again and this time he gives us the word that he's about to blow so we move in for the shot and he unleashes his second warm load of cum all over his smooth ripped chest.