War Chest: Bridger
Dink Flamingo
2015-09-09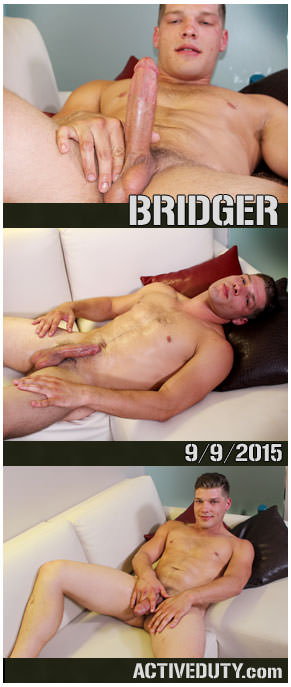 Hey Troops,
Here we have a fine new recruit who could not possibly be any sexier. His name is
Bridger
and I was hypnotized by his gorgeous, blue eyes right from the get go. Claude brought Bridger in and the two had a quick chat before Bridger pull them undies off and got down to some real fun.
Bridger is a social creature who loves partying, making new friends, and being in crowds. I'm not surprised. In any crowd, Bridger's such a looker, I'm sure he's the center of attention.
Once Claude gives him the green light, Bridger gets right onto some good, heavy
rubbing of his crotch area
. One of the first impressions I had of this incredible specimen was that he certainly takes care of his body and pays close attention to small details. Perhaps it was his well-quaffed hair or his fashion sense. I can tell Bridger is the type of soldier who would aim to please...I sure hope he's back soon to show us how far he's willing to go!
Once the underwear were off, Bridger was using both hands to
squeeze his lovely cock
. It hardened up nicely and he covered the boner with lube. When he saw the particular lube Claude had on hand, Bridger smiled and commented that it was, "the best kind." I loved this little allusion to Bridger's habits at home. From that indication, I would guess Bridger is no stranger to
frequently tugging his meat
.
Claude did an excellent job getting nice shots of Bridger's face. He's a
gorgeous, young recruit
and Claude could tell the camera was loving him. I can't wait to see Bridger come back for more fun. He seems to have a very laid-back attitude and I know he would have a lot of fun with another Active Duty soldier, perhaps one that shares a fun-loving disposition. He and
Markie
might work well, I reckon. I know Markie would love those juicy lips locked around his hard dick!
Claude captures some great looks of Bridger's
wonderfully plump rear end
. And by the way Bridger was touching his own ass, I'm guessing he'd be willing to take a good pounding.
Not long before Bridger
spurts his load
, Claude remarks about Christian's dick, "A lot of people would think of different things for you to do with this," to which Christian lets out a sexy laugh. I know this boy is willing and ready to come back with us and do some adventuring.
For now though, he finishes with an awesome,
hot eruption onto his stomach
. I think y'all are gonna be smitten with this brand new hottie to join the AD squad.