War Chest: Brock
Dink Flamingo
2018-03-07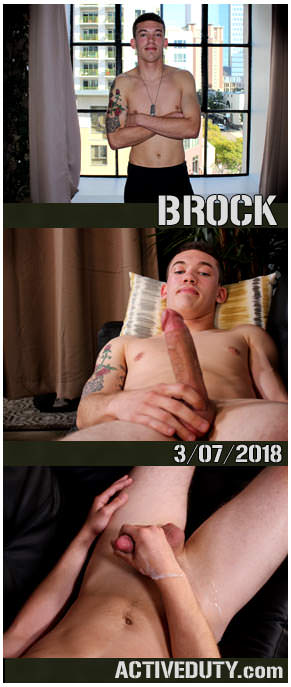 Hey Troops,
Today's fresh new recruit just turned 20 standing 6 feet 1 inch tall and weighing in at 180lbs. When Brock isn't on our glorious couch you can find him in outdoors hiking on some local trails or some good old fashion camping with friends.
Brock keeps his interview short and sweet because he is extremely excited to start showing his
cock
off to all our viewers. Brock wasn't sure about trying this out but once he was given leave for a few weeks he figured you only live once and might as well try out a new adventure.
As Brock begins to feel comfortable
stroking his cock
it gets bigger and bigger showing us just how great of a dick he has. He likes to stroke it slow but with a bear grip. His
plump lips
look great for sucking off one of our vets. Brock continues to show off his hard cock as it bounces off his smooth firm chest.
He is tall and slender with a cock that fits his body perfectly. He is almost hairless as he
masturbates
for us all to indulge on. His quiet demeanor and easy going attitude are perfect for our new soldiers. Hopefully if Brock does well we can throw him into the battle field with some of our vets and see just how great of a soldier he really is.
Once Claude has showcased every feature on Brock we see Brock on the couch laid out for the final bang. With a few more bear grips of a stroke he unleashes one amazing cum shot. His cum flows like a river all over his cock almost nonstop and with one finale look at the camera Brock fades off into the sunset.