War Chest: Bud
Dink Flamingo
2017-10-04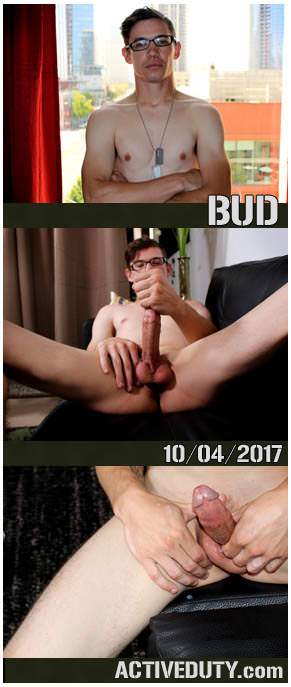 Hey Troops,
Today we have a new recruit named Bud. He's 25 standing an average 5 feet 8 inches and weighing a light but fit 145lbs.
Bud is a lean cut young man wearing glasses which gives off a great
sex appeal
. His calm demeanor and slow strokes on his
hard dick
make for great viewing pleasure.
This Bud is all for you as he grips his hard dick and
strokes
his shaft slowly. He has very little hair on his fit body and his ass is one of the smoothest. He has a great
smooth bubble butt
that I'm sure will get used by one of our top vets. Claude gives us an amazing view Bud's tight ass with an underneath shot showing us just how hairless this sexy man is.
Bud gazes
into the camera from time to time making sure you are watching him tug on his throbbing dick. His
balls are smooth and luscious
just waiting for some attention. Bud gets extremely turned on knowing that people are watching him
masturbate
.
His balls are full and ready to release this creamy nut and as he pulls on his dick for the finale time his nut comes oozing out all over his own cock and balls making for some great lube.