War Chest: Calvin
Dink Flamingo
2018-02-14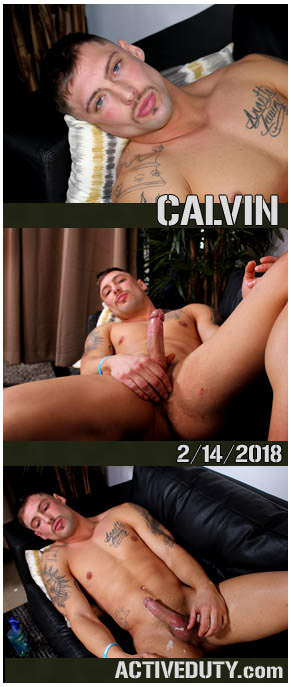 Hey Troops,
The new recruits never stop coming and today we have a very sexy man who is only 23 standing at 6feet tall and weighing in at 180lbs of stud. Calvin loves to surf and he usually is at the beach first thing in the morning. When he's done surfing he spends the rest of the day at the gym taking care of his body and when it's time to relax he grabs his rifle and heads to the woods for some hunting. Calvin is your all around American man and get ready for a very sexy show.
His
beautiful thick lips
and eyes stare right at you as he strokes his
throbbing cock
slowly. He waves at the camera hoping to get some fans which I'm sure he will once this hits the web. Calvin will draw you in with his gaze and mesmerize you with his
succulent lips
.
Claude gives us amazing views of Calvin's very fit lean body. His thighs and
low hanging balls
are just some of the amazing assets on this well-built man.
Calvin gives the call to Claude and soon after he shoots his creamy built up load all over himself. What a great ending as Calvin tells us how amazing it was to release that hot load.