War Chest: Chad Neil
Dink Flamingo
2017-06-07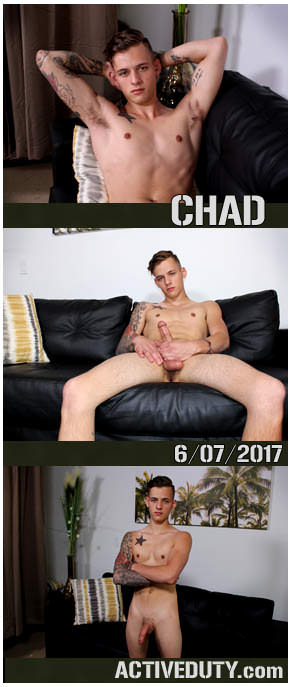 Hey Troops,
Today we have an extremely sexy young man who has just turned 18 and is ready to enlist with AD. We think
Chad
has what it takes especially when he only weighs 145lbs and is standing at a height of 5 foot 8.
He's young, hung
and loves to hit up festivals and party the night away with his close friends. His got the energy and the look we all love here so I hope you enjoy this strapping young man and I'm sure we will see him in the not too distant future.
Chad begins to undress and reveal his amazing
smooth young and very sexy body
. You can see his ink that has overtaken his entire arm as he tugs on his cock making it harder and harder as he becomes more comfortable with the camera.
Claude gives us some amazing shots from underneath this
sexy inked young man
revealing his tight
furry hole
and lovely balls as he strokes his hard
throbbing cock
. He loves to make eye contact and his eyes will make your jaw drop. Claude pans around Chad showcasing him in all his glory letting us see him from head to toe.
As Chad strokes his
hard dick
standing up you can see his cute
butt cheeks clenching
up as he builds up his eager nut. He lies back down on the couch and spreads his legs as his cock stands straight up in the air.
Every time he
eye fucks the camera
it almost makes you want to nut but hold it in because once he unleashes his built up load it's time for you to let yours out as well.
Chad finally gives us what we have been waiting for and that's a
beautiful thick load
that shoots up and out all over his balls and cock. The release is captured on his face as Claude moves in real close focusing in on all the tasty cum on this sexy young man. Keep watching till the end to find out what Chad thinks of doing a hot steamy solo as he reveals all to Claude.