War Chest: Chase
Dink Flamingo
2016-05-04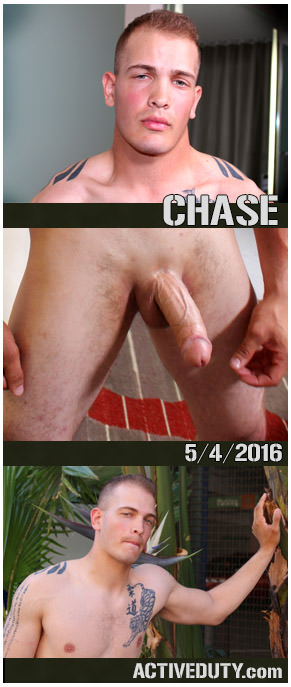 Hey Troops,
This time we have a very special introduction to make. This is
Chase
. He's our newest recruit and so far Chase has stolen our hearts. There just isn't enough I can say to tell you just how sweet and agreeing he is. I just know
Chase
will become an integral part of the troop, and maintain a solid position as a dependable go-to man.
Claude chit chats a little bit with Chase before he leaves him to let his imaginings do their thing. We learn that Chase enjoys horseback riding. Hmm... I wonder how he is at
riding hard cock
!
Without much ado, Chase strips down, right out of his red boxer-briefs, and gets into some good, deep stroking. Chase, I can tell, is the type of guy that savors
slow sensuousness
. He seems like he'd be versatile in almost any situation: ready to pound a fellow recruit's hungry ass without hesitating, and willing to take stern punishment from
firm erections at both ends
.
There's no denying Chase is
handsome and well-built
. He's about average height and has some amazing muscle mass and tone all over his magnificent body. Claude does some nice work moving in tight and capturing some shots of Chase's face. He certainly has those chiseled features we love seeing in our soldiers.
When Chase goes to his feet, Claude swoops underneath for a wonderful shot of the balls as Chase gives himself an oily boner massage. He has a very nice cock and he certainly knows how to handle it well. We also get a look from Chase's own perspective, and see how nice his hands
work the stiff cock
.
I love Chase's tattoos. He has some lettering and some other work that was difficult to totally see here in this debut, but I'm hopeful we'll get plenty more opportunity to see them more!
And then we get one of my favorite parts of the solo -- the
couch grind
! Wow, Chase is amazing at getting into a rhythm and working his body up and down in a sensual way. He turned this into a dance that will really get you interested in seeing him in action. You know what they say, a man can fuck only as good as he can dance!
As Chase works toward a big finish, we see lots of sweat forming and that
big, swollen dick
isn't getting any less greasy. This solo is at the thick end of the
sultry
spectrum. Chase is the type of guy that gets into the fun and gets in deep. My prediction is that his strong, solid persona will add heaps of intensity to his upcoming encounters. And take a look at his
amazing load
! This is one guy I'm putting on my watch list!