War Chest: Chazz
Dink Flamingo
2015-12-16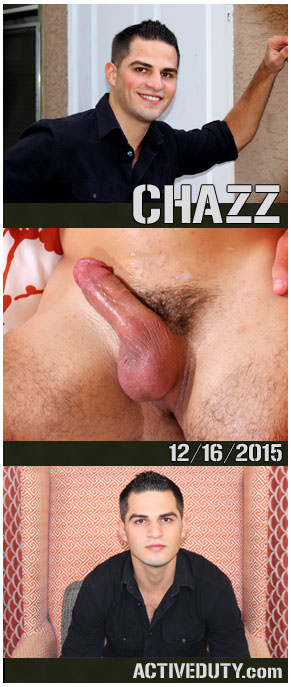 Hey Troops,
Wow, we've been so blessed lately to have such wonderful recruits filtering in to join our humble-but-proud squadron. This occasion is no different, as we welcome our freshest young prospect,
Chazz
.
If you like our
Johnny Riley
's body type, you're going to enjoy Chazz as well. He's a strong cadet, shows lots of promise as a power bottom, and he has that wonderful eager spirit, much like Johnny's had since his beginning. Chazz, however, does have a pinch more of a laid back vibe. My gut tells me Chazz is coming to us with a little more experience than Johnny did, but I can tell he very much has a
desire to explore
and expand his bag of experiences lots more. Aren't we lucky to be in a position to support him?!
He certainly has one of those classically handsome faces. He's quite manly, which, of course, I love. Once Claude leaves him to get more comfortable, after their initial chat, we see Chazz strip down and really get into a
sweet, sensual groove
quickly. He kicks his foot up on the ottoman and works his ass a bit further down in the seat, grabs his
swelling cock
, and gets down to what he knows he likes.
Right around here, Claude gets in tight to show us all the glistening oil Chazz is
slathering around his engorged beast
. Here we see Chazz's fingers doing some work on his hole. I like the looks of this...I know Chazz is going to really be sturdy go-to on our roster of dependable bottoms...with that ass, at least I hope so!
Then Chazz goes to his feet and Claude gets underneath that
gorgeous cock
. "You're a natural!" Claude tells Chazz. Boy, is Claude right. The way Chazz moves his hips and lets his free hand grope all around his legs is just magic. And as we look up at our new boy, and he looks down at us,
oozing that sensuousness
, we get a great view of his powerful thighs. Hairy, manly, and Chazz wants you to enjoy them with him.
Next is my favorite part: We get Chazz bent over the chair,
playing with his ass
for us. Claude gets in good 'n' tight to show us just how fantastic this boy's butt looks. Jumping ahead, in the last moments of this session, as Chazz is soaping himself up in the shower, Claude says something like, "What a tease! You know you have a
great ass
!" Indeed, I do believe ol' Claude hit the nail in the right spot. Chazz knows his assets and ain't afraid to use 'em right!
Finally, we finish off with Chazz
cranking out every last drop
. He sure locks into a heated rhythm right at the end, making the whole experience worth it. He knows how to use his body to entice and I'm thinking soon he'll be using that cock and that ass while getting to know some of his fellow recruits. Let's welcome this fine, new addition!