War Chest: Chris
Dink Flamingo
2016-06-15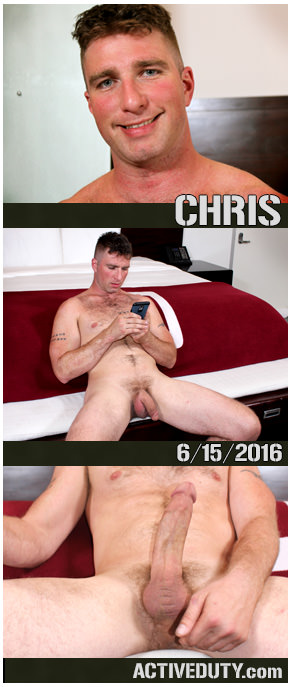 Hey Troops,
Now this is what I like to see!
Chris
is definitely a nice little departure from the usual. He's a
big boy
with a big heart, and a warm, glowing personality. He's one of those guys you know can really bring the heat in the right situation, but uses his power sparingly...he's a gentle giant, with a
very large cock
.
I could tell Chris was a light-hearted guy with a naughty side by reading his t shirt. "I
spank that ASS
until it's fifty shades of RED" hahaha! My goodness, I love the sentiment there. And I bet Chris would and WILL follow through on that threat. From his chat with Claude, we learn Chris is a
guy's guy
. He likes fishing and "driving real fast."
Even though he's a big dude, Chris has a very sensual nature, I can tell. He removes his clothing with a lot of
tease
sexuality, but plenty of subtlety too. He takes his time, eventually peeling off his camouflage cargo shorts to reveal he didn't wear any underwear. And even more exciting, like I mentioned before, Chris if fuckin' STACKED!
Pretty much from the jump, Claude gets in nice and tight, showing us what it would be like to be right under Chris's big dick as it swells up in his strong,
masculine hands
. He works up a nice,
rhythmic stroke
and shoots us a few glances. This is some great positioning on Claude's part. We get a real sense of that hulking dong right at the beginning.
Then Claude moves out further for a nice look at this whole beautiful specimen. I simply love Chris's
body hair
. A perfect dispersal of manliness. From a wide shot to over-the-shoulder, Claude gets a nice range here. We get to see that
fine cock stroked
from Chris's perspective.
Chris moves on over to a nice, red velvet day bed so he can stretch out a bit. He looks very casual as he continues to
tug his firm meat
. But it's not long before he's back on the side of the bed, really jerking at a feverish tempo. Claude goes back in to show us the fine texture of
Chris's luxurious balls
. Chris is the type of guy that knows, at least for himself, the importance of working the balls, an important trait in a
cocksucker
.
Finally, we get down to the blast-off point and Chris shoots a healthy load for us. Hmmm, I wonder whether Chris would make a better top or bottom. On one hand, I could see him using that large,
muscular frame
to level some hard-fucking damage on a
sweet virgin ass
, but I'd also very much like to see him get banged by another recruit with a lot of moxie. Keep a lookout for
Chris
in the near future...I know I will.