War Chest: Christian
Dink Flamingo
2015-08-05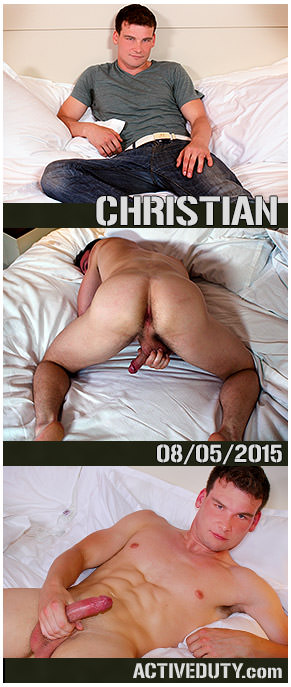 Hey Troops,
This is just a sweet, juicy recruit, ripe for the pickin'!
Meet Christian
, our freshest soldier for your consideration. Christian is a fine young man with a very special sparkle in his eyes. Now I know he's coming in for the first time, but I think it's safe to say that Christian has lots of potential. He seems to be willing, pliable, and all wrapped together in a stunning, well-toned package.
With a very nice frame, Christian stands at 6'1" and about 170 pounds. He's right in that zone that makes for a versatile member of the Active Duty team. This is Christian's first time yanking his hard dick on camera and he does indeed, like many new recruits we've seen, seem a little nervous. But that
sexy, mischievous smile
lets us know he's game for anything. And once he gets going, cranking that pulsating cock of his, you know Christian's a glutton for ecstasy.
Claude, with his signature charm, gets Christian to relax and pull his nicely shaped dick out and really get comfortable quickly in front of the camera. When Christian turns over and goes to his knees, we get to have a real
nice, tight look at Christian's exquisite hole
...WOW! It's the kind of ass that makes your dick swell to just think about. Claude directs Christian to push his oily dick back and up, and we see that Christian could certainly fuck himself...hmmm, perhaps another Christian solo might be in order sooner than later!
But to be real with y'all, I can't wait to bring Christian back and watch him have fun with some other boys. Christian is certainly shy, we can see that here, but I know he's the type to open up around the right kind of guys...pun intended!
Christian goes back to some intense stroking, before returning to more ass display. This is an area where I think Claude shines. He gets Christian to spread his cheeks and
give us another taste of that tight, pink hole
. And I can tell it really gets Christian excited. Let's get Christian paired up with someone who enjoys plenty of ass play. That's a recipe for good chemistry!
Get in there with Claude and experience this hot new recruit. I think you might particularly enjoy Christian's very sexy immediate lead-up to eruption. He gets going with these incredible hip thrusts that drove me RIGHT over the top! I'd like to see Christian back soon, and the next time with someone aggressive, fun, and versatile.
Markie
comes to mind, as he's been a great choice for soldiers who're fucking another guy for the first time, not only on camera but in life. But we'll see. I know that Christian is a promising young man, ready to charge into Active Duty action with a hard dick and an open mind!