War Chest: Cody Smith
Dink Flamingo
2017-07-19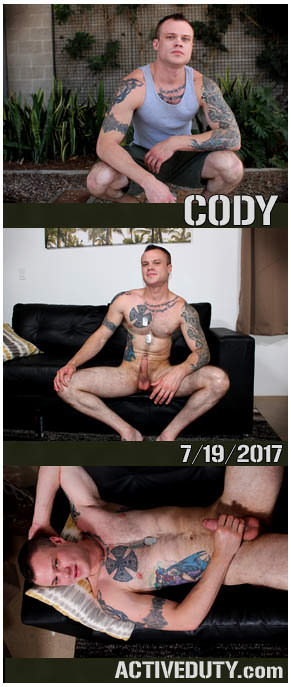 Hey Troops,
We have a
bad boy
entering the AD ranks today. He's fresh and ready to break in and see how far he can climb. Cody is 24 standing at 5 foot 10 and weighing in at a strong 160lbs. Cody is either at the gym working on his fit hairy body or he's hanging out at the local Tattoo shop acquiring more ink.
He's got that bad boy look especially with those manly tattoos inked all over his body. His
hairy chest and sexy muscles
are lovely to look at as he strokes his
hard cock
. Cody doesn't shy away from trying out new adventures. I believe we just might see him coming back for some veteran fun.
Cody gets his cock nice and hard for us all to see as he shows off his hairy body and built chest. He loves to play with his
hairy ass
as he tugs away. Claude gives us an extreme close up of his
gorgeous blue eyes
and pans down his sexy body very slowly for us all to see every detail.
He man spreads the entire couch sitting upright as he strokes his
throbbing cock
. You can see his hairy balls bounce up and down with each pull of his hard dick. His sexy calves and thighs will make you want to feel his entire muscular body.
The bad boy has finally built up his balls where they can no longer
contain the load inside
. He's laid out on the couch with his cock in hand stroking and then we see the cum shooting out onto his hairy chest. Drop after drop of cum all over himself as Claude moves in for the outgoing interview to see just how much he likes stroking his dick on camera for the first time.