War Chest: Cole Bantam
Dink Flamingo
2018-12-05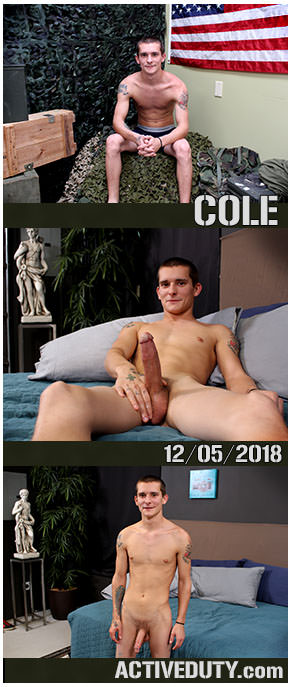 Hey Troops,
Our fresh new rookie today is Cole and he has a sexy accent. He is only 23 years old standing at 5 feet 7 inches and weighing in at only 138lbs. When Cole isn't on our bed stroking his dick he can be found on the wrestling mat taking his pent up energy out in more ways than one.
He's calm and collected as he watches the porn of his choice on the screen. He might be a little nervous but who isn't when their cock is out stroking for all to see. Cole is a man with soldier moves as he shows off that
tasty hard dick
of his.
Claude moves in for one of his underneath shots that show us just how
big his cupped balls are as he strokes his cock
. His furry full balls look like they are ready to explode but he loves to edge himself for the biggest load he can get.
Cole lies back down on the bed spreading his legs but only giving us a peak of his
sexy shaved ass
. His balls bounce up and down as he strokes this
veiny throbbing cock
. The lube makes it shine and the thickness shows from every angle of the camera.
Claude doesn't miss a beat as he catches all the
sexyness eminating from this young slender soldier
. We hope you like him so we can see him in a full on battle either being fucked or doing the fucking but something tells me that he might be a great bottom for one lucky vet.
With a few more tugs of his thick dick he blasts a huge stream of warm cum up onto his chest and all over his pubes and cock. He continues stroking it with all the cum dripping on him.