War Chest: Cole Weston
Dink Flamingo
2018-08-22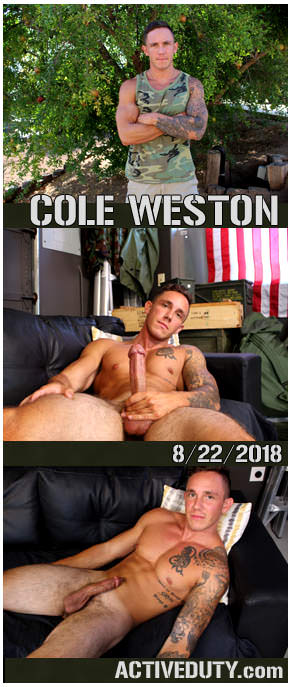 Hey Troops,
Our newest recruit is in our bunker today and Cole is only 24 years old standing at 5 feet 8 inches and weighing in at a modest 175lbs. Cole loves to chill at the beach when he's not on duty and afterwards he hits the gym to keep his body looking fit and lean.
Cole is a sexy soldier with a few tattoos and a
great looking cock
. His skin is tan and he has golden hair all over his smooth yet furry body. He has a very nice mix of body hair with
great full balls
and a mean
hard sexy dick
ready for some elite action.
He loves to sprawl out on our couch and spread his legs as he strokes his
extremely hard cock
. His dick is full of veins that any vet would love to wrap their mouths around. Cole has some great muscular thighs that really show off when he is standing and
masturbating
.
We get real close and personal with Cole as the camera is almost touching his
full hairy balls
. You can hear the lube as he slides his hand up and down his
throbbing shaft
. Cole loves to lick his lips as he gazes into the camera from time to time.
Cole is in great physical shape as needed here at the bunker. Our AD soldiers are one of a kind and if he passes the bunker test hopefully he will come back and have some fun with our elite soldiers.
Sadly the time has come for those
sweet big balls to be released
as he calls out to the camera letting us know he's about to bust and with a few more strokes of that beautiful cock he erupts like a volcano spewing his hot juicy cum all over himself and his big throbbing dick.