War Chest: Colton Phobos
Dink Flamingo
2016-02-10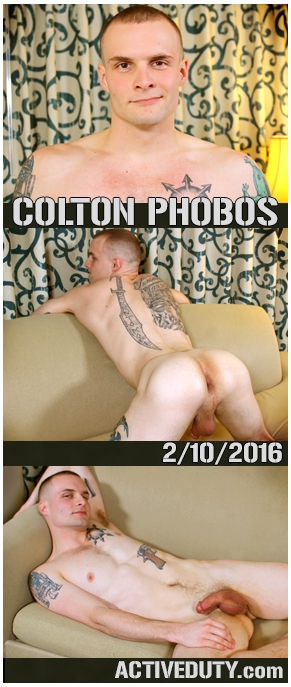 Hey Troops,
The recruits never stop coming in and they never cease to amaze me. Today we have
Colton who is 25 6 foot 1 and 185lbs
of pure country boy ready to see if he has what it takes to become a soldier on the front lines.
Colton isn't shy around the camera and he gives it an
exotic I want to fuck you look
which at some points almost sent me over the edge. His skin is smooth, creamy and he has some decorative ink to mix things up.
Claude
planted a dildo next to him
to see if he would use it and sure enough Colton goes for it and lubes up his ass so he can gently insert it deep inside. He might have done it only for a short period of time but that was
only because he was going to cum
way to soon. He loves to show off his ass and Claude is no stranger with the extreme close ups to show the beauty of a nice hole.
Colton is a tall man as you watch him stretched out on the couch
stroking his cock and rubbing his balls
. You can see his firm strong thighs tense up as he pulls and tugs on his balls. His slight moans keep you edging as he stares so quietly into the camera making sure you are watching his every move.