War Chest: Connor
Dink Flamingo
2017-09-06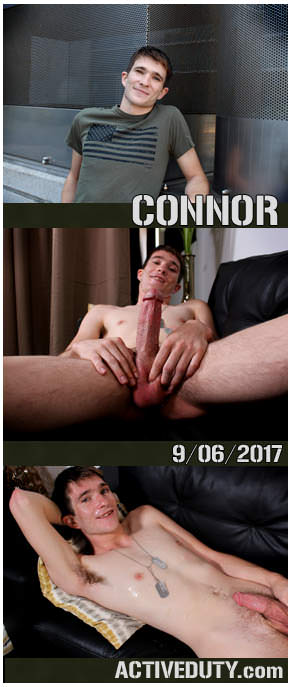 Hey Troops,
Today we have a fresh recruit by the name of Connor who is only 23 years of age standing at 5 feet 10 inches and weighing in at a light 15lbs.
Connor is a happy fellow ready to do what it takes to be part of the squad. Once his
cock is warmed up
it becomes thick and veiny showing off just
how hard
his cock is for all the viewers watching.
His huge balls
which are very low hanging will make you want to tug on your own balls as you watch this young soldier build up his load stroking his hard dick. He rubs his
tight little hole
as he plays with his hairy balls. I can tell right away that Connor would make a great bottom for some of our vets. I could see him in a train with his tight ass up in the air and letting our vets take turns on that sweet ass.
Connor has long legs and a skinny torso with a thick cock to go with it. He loves to
eye fuck the camera
as he continues to stroke his meaty shaft.
Connor does give us a big surprise once he releases that nut out of those balls. He shoots an amazing cum shot that sprays all over him and the couch. Its load after load cumming out of this young man's stiff dick.