War Chest: Cort
Dink Flamingo
2015-02-11
0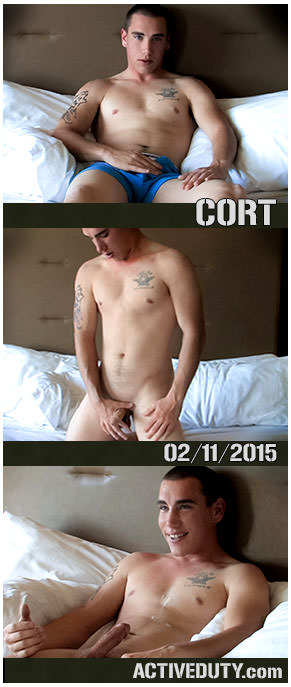 Hey Troops,
It's another wonderful War Chest Wednesday, so I've dug deep into past tapes and emerged triumphant with a
little nugget
by the name of
Cort
.
Cort's a sturdy-looking young man with a nice, toned body and a penchant for drinking and partying. You can tell from his bronzed forearms that this boy gets a good amount of sun, just as you'd expect from a Tampa, Florida native. He tells us he's 5'7" and 160 pounds, "approximately" -- if he ever wants more precise measurements I'm happy to pull out my tape measure and see for myself!
Cort seems a little nervous at first, and after he takes his shirt off he admits that the whole thing seems a little strange to him, but that's what I love most about military guys, they aren't afraid to explore the unknown. Meanwhile,
we're too busy exploring every feature
of his bare, smooth chest and tattoos. Mmmmm.
Cort opts for the bed rather than the couch for getting into the mood, and once he's sitting comfortably his bulge starts to grow too big to be ignored any longer. He alternates, as one hand strokes his firm stiffy under his boxer-briefs, while the other caresses the muscles of his upper torso. What I wouldn't give for either of those hands to be mine!
Cort hits the ground running, as he rubs himself up fast and furious. But this is a marathon, not a sprint, so after a while he slows his pace, using just his thumb and index finger to
play up and down the sides of his shaft
. With his other hand, he gives his balls a little tug, just to show them who's boss. They must be bursting with semen, but our man Cort's gonna cum when he's good and ready, and he's not done enjoying himself yet!