War Chest: Craig Cameron
Dink Flamingo
2016-09-28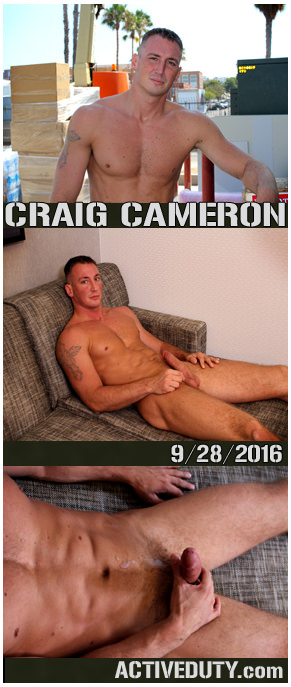 Hey Troops,
The recruits keep falling in waiting for their chance to be a part of this great squadron. For today's test run to see if he has the guts to become a soldier is
Craig
, he weighs 185lbs 25 years of age and stands a strong 6 feet tall.
Craig loves the night life and hits the clubs up as much as he can when he's not at the gym working on
his muscular body
. He's easy going and likes to let the night play out without any expectations. He's found is way to us luckily and we are sure you will love how hunky this recruit is.
His smooth strong body
is laid out on the couch for you to see. You can see the
cocky look on his face
as he
strokes his hard dick
. Craig knows he has the look and he's taking it all into account with each pull on his shaft. The enjoyment of the free flowing lifestyle he has chosen gleams off the camera as our very own Claude maneuvers around him for the sexiest angles.
Craigs long legs are showcased as the camera looks up to him revealing his golden hair on his balls and his
beautiful butt muscles
clinching as he balances.
He relaxes back on the couch spread out tugging on his hard dick until he gives the call that he's about to
let loose all that juicy cum
we all have been waiting for.