War Chest: Damon II
Dink Flamingo
2017-03-08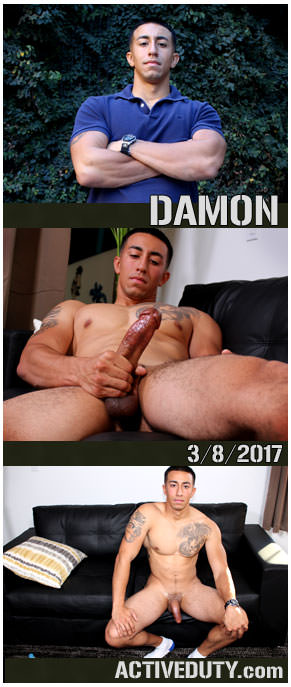 Hey Troops,
We have a brand new, gorgeous young man with us today named
Damon
. He comes off very sophisticated and well-spoken, two things that make squad leaders around here. It's interesting that he describes himself as a party boy to Claude. I think Damon will prove to be an interesting dude and an excellent new soldier.
Claude lets Damon get down to business, and he doesn't waste a moment before peeling off his clothes. Once nude, Damon lathers oil all over his nice,
big cock
. He starts out standing up, which is a bit unusual, but it's clear Damon knows what works for him. His
amazing cock
grows fast in his
strong hand
.
Damon settles in on the couch and Claude gets nice and low for us. Damon's style is a nice breath of fresh air. He uses lots of oil and implements both hands in the
stroking
process. With a fat dick like that, two hands are probably necessary!
Then we get view from Damon's perspective, looking down on that luscious cock. Wow, Damon really came here to party and I shouldn't have expected anything less. Only a few minutes in and he's really worked up a nice pace, still using both hands to
crank his hard meat
. His
swollen erection
just looks amazing in his hands.
Damon goes back to the couch, but this time reclines with one leg up. From here, we get a little teasing glimpse of Damon's ass as he lays back, as well as a good look at his
enticing balls
. Claude does some wonderful work here, moving all around our new recruit, giving us up-close looks at all the sexy details. Damon's skin is rich, warm, and sensuously inviting.
Then we get a great view from above, showing us Damon's whole body working to pleasure himself. He's a strong guy with serious muscle tone. With a large Marine Corps emblem tattoo on his chest, it's a safe bet that Damon is a dedicated guy. I'm hoping we'll have him back soon to get to know him better, but from this display, we can see that he sure works hard to achieve what he wants.
Throughout this experience, Damon makes a tight connection with us as he
jerks his cock
. He's sure to give us intermittent glances, letting us know we're in this together. It's the mark of a leader, and like I said, Damon has it written all over him. It would sure be interesting to see how he interacts with fellow recruits in a three-way situation.
Claude gets very tight and Damon uses the opportunity to down shift in pace, in order to really put that
beautiful boner
on display. Using both hands,
Damon squeezes his cock
up and down slowly, showing his impressive length and irresistible thickness.
Damon goes back to his feet and brings the rhythm back up to fast pace. Claude moves from the front to the back, and we take a look at
Damon's sexy ass
. Then we get a look upward at this hunk as he cranks his way to the finish line. I simply LOVE what Claude does here! You just have to see this
incredible ending
. I don't wanna spoil it, but I'll say that I hope you're ready to get blasted by
Damon's hot load
! What a fun guy and what an excited new prospect for the squad.