War Chest: Dane Stewart
Dink Flamingo
2017-02-15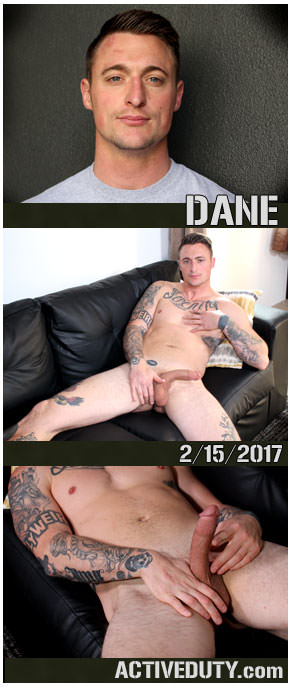 Hey Troops,
Meet the newest hunk on the squad,
Dane Stewart
! This recruit is such a dreamboat, you'll be mesmerized by his handsome face from the start. Dane is hot, horny,
handsome
, and
HUNG
!
Dane chats a little bit with Claude and his laid-back, guy's guy vibe really shows. Gosh, this boy is just so cool! That chic haircut and those tough-looking
tattoos
are just delicious.
Claude gets low and tight to show us how beautiful
Dane's erection
is. The angle he captures, with Dane stroking his
hard cock
and that gorgeous face just next it is really something. Switching between hands, tugging at the tip, Dane heats this session up quickly.
Then we get a nice view from over Dane's shoulder, where we get to see more of Dane's muscular, inked-up bod.
Dane stands up and continues
pleasuring himself
, and we get to look up at him and his strong cock. Here we see Dane's sexy balls reacting to his fervent jerking. He takes time to throw us sensuous glances, and also plays with some sticky
pre cum
for our enjoyment. I can't wait to see this fresh recruit in action! I know he'll be in high demand among fellow soldiers.
Then it's back to the couch where Dane gets comfortable and into some serious
stroking
. Claude gets some excellent tight shots of Dane's entire body, giving us close up look at this tasty dude. We get a look downward, from Dane's perspective, as he uses a finger to swirl around some pre cum.
Dane adjusts a bit, laying back completely on the couch, with both feet up. Claude uses this opportunity to give us a glimpse of
Dane's tight, bubbly ass
. Boy, I know a few guys on the squad who'll be salivating!
Finally, Dane just erupts with a massive load, hitting himself directly in the face! Claude and Dane laugh together over the large glob of
warm cum
on Dane's cheek. Wow, I wonder how long he'd been holding out for us! This is a fun, talented, gorgeous guy and I'm thrilled to have him on the AD squad!