War Chest: David Prime
Dink Flamingo
2016-09-14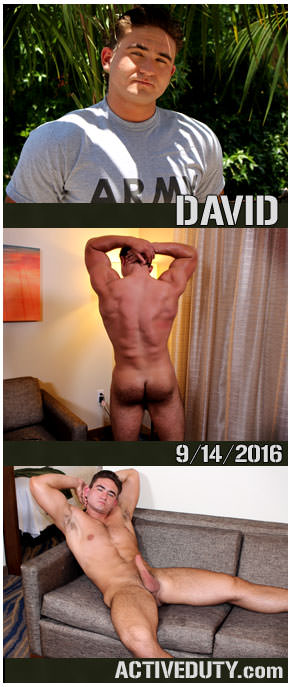 Hey Troops,
Here's a unique young recruit who had me intrigued from start to
explosive finish
. This is
David Prime
and it's his
first experience
getting' naked on camera. David, as you can see, is a bit nervous starting out, but that's ok, he's only 19-years-old. I like David's laid-back personality right off the bat and I think he's getting his feet wet at just the right time.
David tells Claude he's into body building and when he peels that shirt off, we find out he ain't lyin'! Yes, David's entire body is exquisite, particularly that chest and those
thick arms
. I really like David's medium amount of body hair. He has just enough to add that bit of
raw masculinity
. He's truly a wonderful addition to the squad...hopefully he sticks around!
When that cock comes out, my mouth was watering, y'all! Yummy!
David's dick
is so well shaped and proportioned to his body. It's tough to tell when he's sitting down, but David is actually 6 feet tall. That dick looks just luscious in his rough hands. Yes, David sure seems to be a
complete package
(now let's hope
he likes to fuck
!)
As he gets into stroking his
firm cock
, David slowly lets those nerves melt away and he really is able to lose himself and enjoy the sensation. I like the way he feels his body up and down, letting his free hand run a little wild.
After some good warming up on the couch, David goes to his feet and Claude comes in tight, right underneath
David's balls
. Wow! If you're a balls lover like myself, you're gonna appreciate the set on this boy! Yes, David has quite a sweet situation happening in that region. And boy, it sure is sexy watching him jerk that oiled meat, seeing his cute face pop out from behind his
girthy shaft
every once in a while and give us some love.
Claude was nice enough to capture a shot from David's perspective. This is another great moment to enjoy
David's strong hands
. I sure can imagine a few fellow recruits who I'd like to see those hands work on!
And then we get a look at David's gorgeous ass. My goodness, talk about
strong legs
and that wonderful, manly hair on his cheeks and thighs!
David's body
is just a pure dream. I wonder if we can convince him to let an eager soldier (gently)
work a cock into that sexy ass
. Let's keep our fingers crossed.
David ends up back on the couch to tug out a nice, healthy load. In fact, he REALLY erupts for us, shooting warm cum all over his arms, stomach, and even a bit on his own chin! From top to bottom, the hair to the tan, the ass to
the cock
, the hands to the balls, David is such a
hot new piece of man
.