War Chest: David Strong
Dink Flamingo
2018-06-13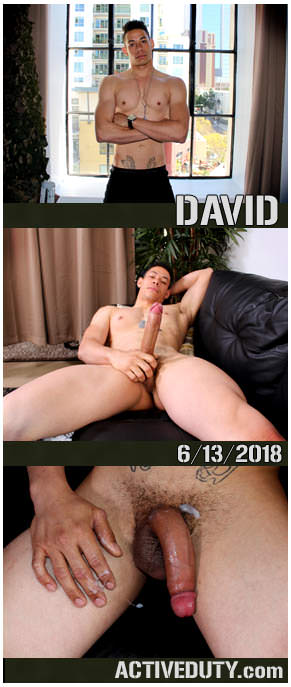 Hey Troops,
I would like you to clap David in because he is one sexy 6 foot 2 inches tall 25 years of tasty muscle and only weighing in at a remarkable 190lbs of which might be his cock. This tight nit soldier has a huge dick that can knock out any enemy on the field of battle. Be careful vets this new fresh recruit is coming after you!
David grips his shaft and pulls every inch of at as if he were holding a loaded weapon. His legs are wide spread showing us his
sexy cupped balls
and long shaft with amazing veins and one beautiful head.
He stares deeply into the camera with every throbbing inch of his cock held tightly in his smooth hands. We know he needs some help with that
monster cock
but it's all in due time and you better be on the lookout for his next scene especially with the way he can blast a load.
David can feel his balls about to explode just like after pulling the pin from a live grenade. He uses both hands to hold his dick into position as it
throbs viciously
and with every stroke he gets closer to erupting. Now with only one hand left to do the job
he beats his dicks furiously
and finally his warm cum shoots out gracefully all over his pubes and it slowly drips down his long shaft. He then uses his thick cum as lube as he slowly strokes every inch.