War Chest: Dayne Wood
Dink Flamingo
2019-01-16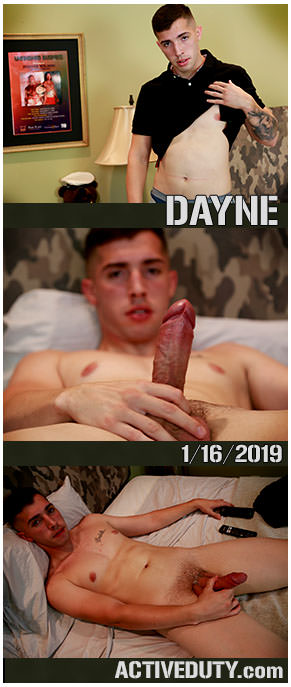 Hey Troops,
Dirk just loves bringing in the fresh soldiers that are being stationed nearby and this week he has found a sexy 22 year old from Miami. Dayne wanted to get into the adult industry to explore his dirty side and see how far he can push his limits. Dirk lets him know he has found the right place for it all.
Dirk makes Dayne comfortable with a very nice introduction as he begins to open up to us. Once Dirk can see Dayne is feeling in the zone he lets him loose and so Dayne takes his clothes off revealing his
big uncut cock
. Dayne slowly begins to
stroke his dick
and it becomes harder and harder as you can see the
blood rush in through the veins
.
Dayne is extremely comfortable now as he is laid out on the bed
legs spread stroking his cock
watching some porn. His breathing becomes a little more heavier as his balls are ready to let loose his built up tension. He slides his hand up and down his veiny hard dick a few more times and then he shoots his thick hot load all over himself.