War Chest: Donte Thick
Dink Flamingo
2018-04-11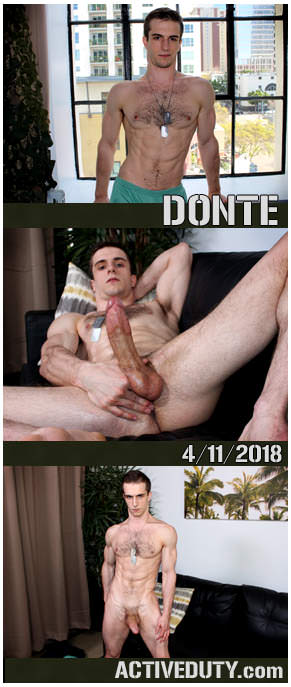 Hey Troops,
This week's new recruit is Donte and he's definitely one of a kind. His energy is thru the roof and his moves are a style of his own. He's 24 standing at 5 feet 11 inches and weighing in at 160lbs of lean muscle. Donte loves to fight and fuck plus show off his amazing body for all his new fans.
Donte doesn't waste any time after he's done with the interview. He drops his pants and begins to show off his body in an
amazing unique fashion
. He pushes his
ass out
and moves his body like a snake. We think he might have been a dance in the past because his moves are smooth and you can tell his body is
one limber piece of sexiness
.
Donte has one big hard cock and some huge full balls all at his disposal. He eye fucks the camera while moaning and groaning. He is enjoying himself fully as he strokes his big dick and fingers his tight hole. Donte has a personality all his own and we love to find the new recruits that want to take it to the next level.
His body is ripped
and in amazing condition. His cock and balls shine with all the lube he is using to stroke his fat throbbing cock. Donte has one
amazing ass
that I'm sure he would love to bend it over for one of our elite vets. Donte gets so fired up masturbating that he unleashes a
huge load of cum
all over himself almost hitting his eye but that's just one of many loads this man shoots out.
He may have blasted out his load in the middle of the scene but he keeps on
stroking that big dick
without any breaks in between. His balls must be full of cum just waiting to shoot out.
He uses his cum and our lube
to continue stroking his huge shaft until he lets loose another creamy hot load all over his chest. This solo is one for the books and we look forward to hopefully bringing this sexy man back to AD for some more hot sexy steamy action.