War Chest: Dylan
Dink Flamingo
2015-12-23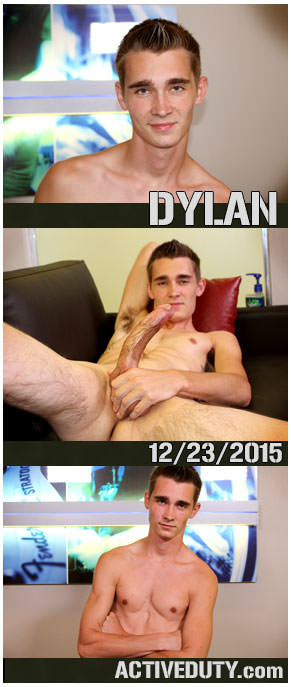 Hey Troops,
You won't believe how
handsome and fresh-faced
this fine recruit is. This is
Dylan
and you've really gotta see him to know what I mean. Boy, I think we have a wonderful adventure ahead of us with this soldier.
Wow, what a nice dick and
luxurious balls
on this young recruit. It's gonna be very interesting to see how Dylan fits in with the rest of the squad. I could see him using that large, strong meat to pound some of the tight, under-experienced holes of his fellow recruits, but I could just as well imagine Dylan being a nice, slender fuck toy for our bigger, stronger squad members.
What really stood out for me was Dylan's passion. He had a good, powerful intensity for this entire
stroke session
. We hear in the tail-end of the session that Dylan had explained to Claude that he was indeed a bit nervous. But when he got that
big dick nice and oiled up
and began the jerking, the nerves went away. I'm sure this is an encouragement and reassurance for Dylan going forward. I'll bet he's even more eager than before to mix it up with some other recruits.
Claude does a wonderful job here of getting some excellent shots of
Dylan's gorgeous face
, with those eyes, that smile, and those freckles. He also does an excellent job of capturing great moments as Dylan shows us the true size and perfect shape of his
throbbing cock
. By the attention Dylan pays us as we watch him
jack his thick boner
, I know he's gonna do a great job for us once he starts experimenting with other recruits.
We pretty much have Dylan switching positions slightly on the couch for the entirety of this solo. Claude gets a great view from underneath Dylan's dick for the finale eruption, which turns out to be such a nice buildup right at the finish. You're gonna simply fall in love with this laid-back, handsome young man. I certainly did, and I know we'll all be eagerly awaiting his next adventure with us.