War Chest: Elye
Dink Flamingo
2017-04-05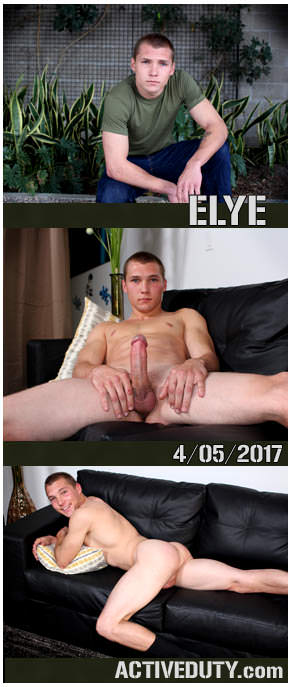 Hey Troops,
This week we have a very sexy young man by the name of
Elye
. He's 21 5'8 and weighs a slim 150lbs. When he's not
stroking his big dick
you can find Elye outdoors riding his dirt bike or honing in on his piano skills which he has been playing since the 3rd grade. I bet he is great with his fingers so let's take a look at just how
good he is with his hands
.
It's Elye's first time on camera but he loves to look directly at it while
stroking his dick
. He begins to become more comfortable as his cock starts to grow and become harder by the minute. He looks so young with his
hairless body
and shaved head. He is extremely fit and could easily take on some of our long time veterans.
As Claude moves in for closer shots Elye doesn't shy away from the camera at all but instead stares it down while he picks up pace
stroking his rock hard cock
. Luckily for Claude he got a real close shot of Elye
cumming unannounced
. Elye was stroking his dick straight up and down and all of a sudden without any noise from him he shoots a load straight up into the air.
It's creamy and thick
but he doesn't stop and continues on playing with his cock.
Elye moves around the room from multiple positions making his
stroking capabilities
better than ever. His favorite spot is lying out on the couch, legs spread, revealing his cupped balls and amazing shaft.
All good things must come to an end and Elye amazes us once again as he stands up and blasts a huge load all over the glass table with
gobs of cum
everywhere. He slowly milks the rest of the cum out of his dick as Claude pans around showcasing every last drop.