War Chest: Eric
Dink Flamingo
2015-03-25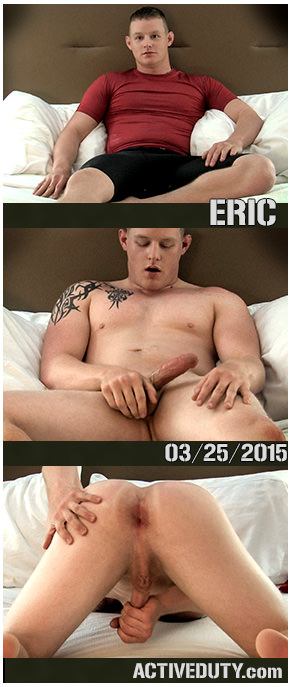 Hey Troops,
I'm fresh off the plane from Mike's and my meet-up
I was telling you about earlier
, and I'm bushed! We got a ton done and had a blast doing it all, and I'm sure you're gonna hear some stories from me before long about all the misbehavin' we got up to while I was visiting... but I'm afraid those're gonna have to wait for another day! I'm cutting it pretty tight with this Update Letter as it is so I don't wanna waste time talking about the trip, because I'm afraid I'd never stop! So instead, let's just jump in to this week's War Chest Wednesday with Mike's newest find,
Eric
.
Speaking of cutting it tight,
check out how CUT this guy looks in his TIGHT t-shirt and boxer briefs
. Eric's got a nice solid frame, measuring a respectable 190 pounds and 5'10" of packed military muscle, and he says he's nervous but I don't get that vibe from him at all! He's got a big boyish grin on his face as he introduces himself, and he doesn't stutter or shy away at all as Mike grills him for info. And you can bet he doesn't hesitate to peel off those clothes when the time comes to show us what else he's got going on under those tight clothes of his.
Eric might not be the most well-endowed soldier we've had on our site, but I'd bet any dick size would look dwarfed by
his giant manly arms and torso
. And of course, it's not the size of the weapon but how you use it that counts, and any soldier worth his salt knows how to handle his weapon masterfully. Eric scoots back to a more comfortable position against the pillows and squirts some lube on his shaft before getting into the rhythm of it, tugging on his balls with one hand as he slides up and down the length of his rod with the other.
Some guys moan, some guys gasp, but
Eric's a grunter
, letting out some really manly sounds between clenched teeth as he works himself over. Then he turns around and gives the camera a brown-eyed wink, his cheeks bouncing up and down as he starts to hump his hand more vigorously. You could almost picture somebody right under him the way his cheeks thrust back and forth as if he was full-on fucking.
Eric says he's down to come back, and even down to do more than just jack off for us, which is no surprise given how relaxed he looked at the beginning of the scene. I don't know what Mike has planned for him, but
Eric seems like he'd be an amazing addition
to our beefy bottoms like
Randy
and
Brock
. It's always a treat to see the bigger guy on the bottom, since it's such the opposite of what you expect. I guess it's up to Mike and Eric to work out the details, but lord knows I'm keeping my fingers crossed!