War Chest: Fernando
Dink Flamingo
2017-05-10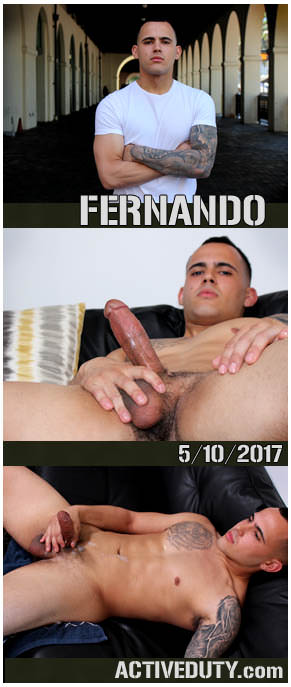 Hey Troops,
The recruits keep falling in waiting for their chance to be a part of this great squadron. Our newest rookie
Fernando
who is 23 standing at 5 feet 7 inches and weighing in at a strong 165lbs is ready to show off his talents. He is an avid Soccer player and fan plus he likes to let loose with some Ji-Jitsu when he's not
strangling his cock
with his big hands.
Fernando can't keep his eyes off the camera as he
strokes his fat dick
. He gets off on knowing people are watching his every stroke. His sexy
inked arm and chest
won't distract you because his cock is where all the action is.
Claude brings us a great view of his balls from underneath Fernando. You can see him
eye fucking the camera
from below as he tugs away on that thick dick of his.
Fernando is extremely comfortable in front of the camera as he masturbates his way into our berrics. His
sexy strong hands
grip his big thick cock. We know he'll be back to fuck one of our long time vets sooner or later and I personally can't wait for that thick cock to squeeze into a
tight eager ass
.
Fernando's sexy
dick is mesmerizing
as his abs flex with each tug. He's as smooth as they come and this sexy man has what it takes to be a vet in the near future.
Finally he gives us notice just before he erupts like a volcano and you see
splurges of cum shooting out
from his big dick. It's probably one of the hottest cum shots I've seen in a long time and it makes me eager to see more of this new recruit.