War Chest: Gavin
Dink Flamingo
2015-03-11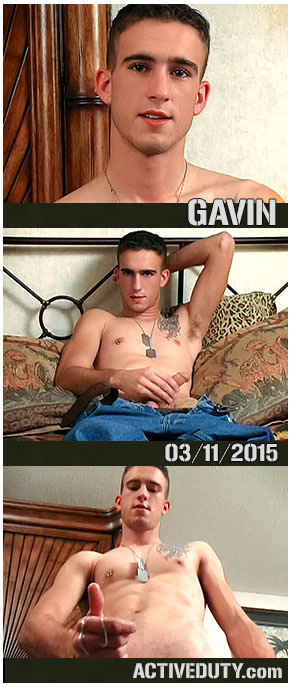 Hey Troops,
This War Chest Wednesday is kind of a sequel of sorts to Austin's solo from a few weeks ago. Y'see, Austin didn't come alone to the shoot, he brought a buddy along who also wanted to make some fast cash. And that buddy was Gavin.
I mentioned that Austin was one of the "ones who got away" and unfortunately he and Gavin have that in common. But that doesn't mean you can't enjoy a sampling, however brief it may have been, of Gavin's wonderful body. Sometimes the finer things in life are appreciated all the more for how scarce they are!
I tell Gavin that his buddy Austin gave a great performance (which was completely true!) to try and muster up some friendly competition between bros. Gavin said he'd try to outdo his buddy, and I'll let you all be the judge of which one you thought was the better beat-off -- maybe wherever they are now they're checking their scene ratings to see who beat who in the end, so just in case, be sure to rate each of 'em to let 'em know who won!
Gavin's a 6'3" stud, at 170 pounds of hot young Washington DC man-meat. He's got a bit of a bad boy streak as he tells me about his appreciation for booze and partying, all the while sucking down a cigarette and rubbing his crotch in anticipation. Check out that devilish smirk of his as he tells me his wife-to-be knows exactly what he's up to right now. This guy's the best bit of bad news I've had in a while!
I gave Gavin some time to himself to finish up with his sin stick before getting him to whip out an entirely different type of stick you can sin with -- his hot cut cock! His dick isn't the only thing that catches the eye to boot, as his tight chest comes fully ornamented with dog tags, a nipple piercing, and a solitary tattoo. His hand runs up and down his abs as he pleasures himself, but I bet he wishes it was someone else's hand feeling him up instead of his own. Any takers?
Gavin works up a storm as he pounds away to the porn I got playing in the corner, all the while sneaking peeks at the camera to let you know he's thinking about you too. He makes quite a mess all over his hand when he busts a nice white load, but manages to keep his clothes clean without dripping any onto them. Guess that's the type of cleanliness the military teaches you in boot camp!
Oh, guys, I almost forgot to mention that we're still running our survey for a little while yet. If you wanna help by letting us know how we can make Active Duty better meet your needs, and get 2 free weeks site access to one of three hot porn sites in the process, then hop on over with this link to get started. It'd mean the world to me! As usual, thanks to all of you for your support!