War Chest: Guy Houston
Dink Flamingo
2016-01-06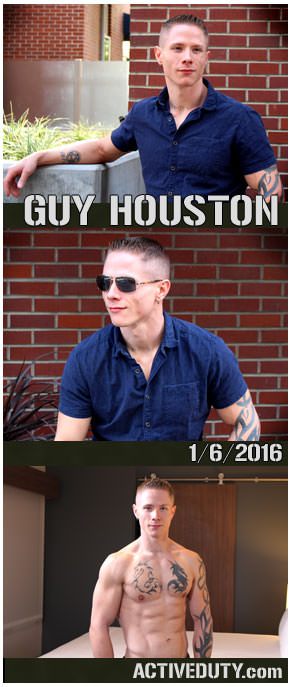 Hey Troops,
Looks like we have found one amazing recruit who is ready for the front lines. Our squadron just keeps growing and growing with the finest men around. Let's give a hand to our newest and brightest recruit,
Guy Houston
.
Guy is the quiet type yet shows lots of promise as a dominate top and I'm sure eventually you all will see that soon enough. Guy has never been with a man let alone has Claude sit quietly by filming him but once you see his
amazing eyes
and physique you'll know he is the man for the job.
His body is strong, ripped and the veins are pulsating with excitement as he finishes his chat with Claude. Claude lets him know he can take his clothes off whenever he is comfortable and not a moment later Guy is standing up dropping his pants and shirt to reveal what I've been talking about. Man I'd love to take my fingers and
caress his sexy abs
.
What I love the most is when a new recruit becomes comfortable and falls into the moment just stroking and pleasing himself. Once Claude sees the comfort that's when he goes in for the close up of his
smooth sultry balls
. You can hear the saliva on his cock as he strokes ever so slowly for you guys.
His blue eyes are gorgeous and Claude gets a great view of them. Guy loves to move around and show all that he has to offer. His butt is all muscle, firm and very plump. He lines up in one position where he has one leg stretched out on the couch and the other on the ground, mmmmm its pure enjoyment.
Finally, we finish off with
Guy milking out
every last drop. It's a quiet blast as he milks away but the stern look on his face tells you he's ready for anything we throw at him. Wow I sure loved this scene, it's probably one of my favorites now, and you'll see what I'm talking about once he has no clothes on. This may be his first time here but it won't be his last as I'm looking forward to when we all can see his rock hard cock deep in one our soldier's asses.