War Chest: Hank
Dink Flamingo
2015-04-08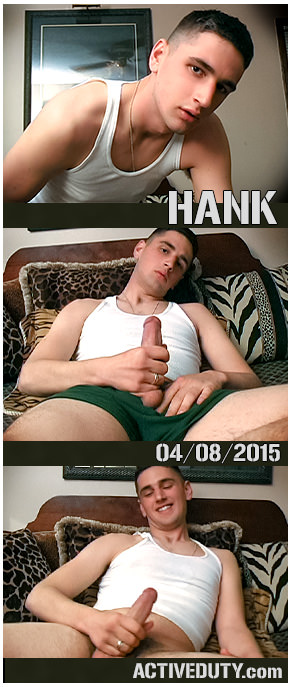 Hey Troops,
You guys spoil me, you know that? As you guys know we closed out our survey last week and I've been taking the time to read through each one, and I can tell you that I've never been so happy to have to read so damn much! We got an overwhelming amount of response to the survey and it's all thanks to you guys taking the time to let us know what you think, and for that, I wanna thank you. I'm really excited to see all the passion you guys put into your responses and I look forward to taking the suggestions you guys gave to heart and hopefully getting some of those changes up and running over the next few months. It'll be a lot of work but hey, so is convincing a straight soldier to take a dick up his ass for the first time, but you know me -- I love the challenge.
But alas, today's not about taking a dick up the ass because we're Wednesday, and you know what that means, Troops! That's right, I've been digging around in the ol' War Chest for a particularly juicy clip for today's update, and I daresay I've found one worthy of your attention. This here's an audition tape of
a soldier in his prime named Hank
, shot all the way back in 2002 if you can believe it, and he's gonna
expose himself for ya as usual, rest assured
.
Hank's a slow stroker, taking his time and really enjoying the porn that's playing behind the camera. It takes him a little while to warm up to the fact that we're all watchin' him crank it, but after a while he seems to let himself loose. He starts telling me some of his sex stories, and I got especially curious when he said he got spanked once -- I just
had
to hear more about that one!
He starts taunting me about how hairy his ass is
, so of course I tell him that he can't tease us with just talking about it, he's gonna have to show us.
Sometimes the guys will take some time off when showing off their behind to pose, but Hank just keeps on stroking himself,
his ass-cheeks bucking with each solid thrust
, and you can tell he's really into it now. He's rearing his head back and moaning and writhing as he gets himself really worked up. They say guys get more willing the more horny they are, and I bet Hank would have done any number of things outside his comfort zone in those moments on the edge of orgasm, but we'll just have to settle for him busting a creamy load over his chest because that's the only scene I managed to film with this handsome hunk of ham. Some people always want more in life but I've learned to recognize and appreciate the things that come -- or cum -- my way.