War Chest: Ivan D
Dink Flamingo
2019-04-10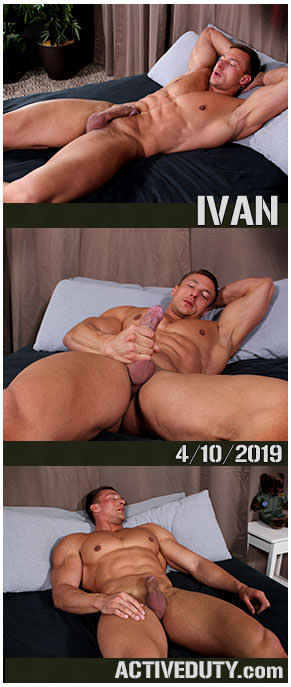 Hey Troops,
Ivan was in town on some training exercises and he heard about us through some friends of his and he decided to stop on by and we are glad he did. Ivan is a big muscular man who spends quality time in the gym and he's on a very strict diet. He's glad he can finally get a break and rest up on our bed to show off all his goods.
Once Ivan stands up and continues to
stroke his dick you can see his full balls
from underneath and his firm thighs quiver as he masturbates for us. Ivan hopes to make it higher up the ranks but we will see if he has what it takes.
Ivan once again makes himself comfortable on our bed and he
spreads his smooth sexy legs as he slides his manly hands up and down his throbbing shaft
. His moans are quiet but as he gets closer to cumming he becomes louder and louder. You can only jack off for so long and the time has come for Ivan to release his balls and with a few more long strokes and one last loud moan Ivan lets his cum shoot out his beautiful cock and onto his well built body.