War Chest: Jack R
Dink Flamingo
2017-06-21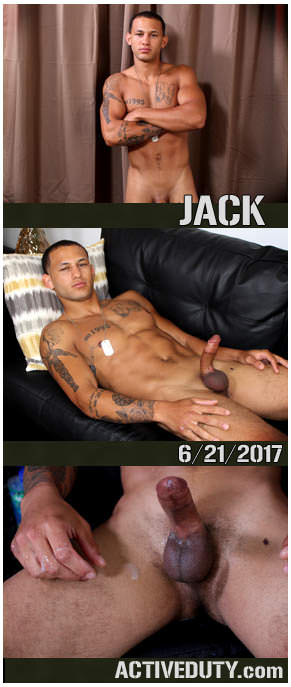 Hey Troops,
Sexy dark skinned Jack
is aiming for the sky and he thinks he has what it takes to be part of the elite squad here at AD. He's at a ripe young age of just 22 and stands at 5 feet 10 inches weighing in at 165lbs of pure muscle. When he's not stroking his dick in front of the camera you can find Jack blasting some guns or keeping his body fit over at the gym. Either way
Jack is a force to be reckoned with
.
Jack has some very
long sultry legs
with a physique that would make any gym rat jealous.
His ripped chest and sexy ink
topped off with a thick hard dick just look mesmerizing. Theirs barely any hair on this young man who I think will plow through the ranks here.
He starts off slowly
stroking his hard cock
with his muscular hands. As his cock continues to grow, Jack makes repeated
eye contact
with the camera. You could say Jack is pretty much
eye fucking
you which might make you blast your nut sooner than you think.
Claude moves in for the beautiful underneath shot revealing his
sexy dark balls
that are just waiting to unload later in the scene. His cupped balls and stroking of the cock are almost breathtaking from this gorgeous shot.
Finally with a few more tugs on his cock he gives Claude the signal and unleashes a
volcano of cum
straight up into the air and splashing back down all over his cock and balls. Claude moves in super close for the best view of his thick creamy cum splattered all over his sexy body.